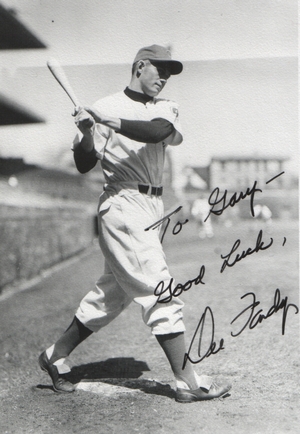 Dee V Fondy was born on October 31, 1924 in Slaton, Texas but his family moved to San Bernardino, California when he was very young.
Fondy entered military service with the Army on April 8, 1943. He was stationed at Camp Cooke, California, before serving with the artillery in Europe, landing at Utah Beach, Normandy in September 1944. Fondy fought in five major battles and was awarded a Purple Heart for shrapnel wounds in his right foot.
He was signed at a Long Beach, California, tryout by Brooklyn scout Tom Downey in 1946 and assigned to Santa Barbara in the California League. The 6-foot-3, speedy first baseman batted .335 his rookie season. The following year – 1947 – he hit .337 with Newport News and was an all-star selection.
Fondy advanced to Fort Worth in the Class AA Texas League in 1948 and batted .328 – second best in the league – with 86 RBIs. He was with Mobile in the Class AA Southern Association in 1949 and an all-star, back with Fort Worth, in 1950. But with Gil Hodges holding down the first base job for Brooklyn there was no where else for Fondy to go, and he was traded with Chuck Connors to the Chicago Cubs in October 1950.
On March 26, 1951, the people of San Bernardino held a day for Fondy. He received a TV set, sportswear, numerous electrical gadgets and a check for $250, which he returned to the donors for a fund to encourage kids to play baseball in his hometown. In the spring training game that followed between the Cubs and Pirates, Fondy contributed a single to the Cubs' three-run ninth-inning rally that enabled them to beat Pittsburgh 4 to 3.
Fondy was the opening day first baseman for the Cubs on April 17, 1951. His first major league hit was a bases loaded triple off Cincinnati pitcher Ken Raffensberger. He played 49 games that season - splitting first base duties with Chuck Connors - and batted .271.
Fondy became the Cubs' regular first baseman in 1952, batting .300 with 67 RBIs, and remained a fixture in the Chicago lineup until he was traded to the Pirates in May 1957. He was traded to the Reds in 1958 and batted .218 over 89 games in his final major league season.
Following his playing career, Fondy worked as a scout and front office official for the New York Mets and Milwaukee Brewers. He was the Scouting Director of the Milwaukee Brewers in 1976-1977 and then was a special assistant to the GM until retiring from baseball in 1997.
Dee Fondy was diagnosed with pancreatic cancer in 1998. He passed away at Plymouth Village retirement center in Redlands, California on August 9, 1999. He was 74 years old.
"Dee Fondy was one of my favorite people," baseball commissioner Bud Selig said after receiving news of his death. "He had a great sense of humor. He and I used to kid each other a lot."
Thanks to the late Dee Fondy who shared much of this information with me in 1995.
Created July 23, 2007. Updated January 11, 2015.
Copyright © 2015 Gary Bedingfield (Baseball in Wartime). All Rights Reserved.