Red Dugan
Date and Place of Birth: February 13, 1913 Kansas
Died: July 5, 1992 Hiawatha, Kansas
Baseball Experience: College
Position: Pitcher
Rank: Sergeant
Military Unit: USAAF
Area Served: United States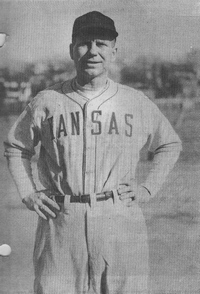 Ralph "Red" Dugan was born February 13, 1913. He was the son of Edwin and Ethel Dugan, and they lived in the Soldier/Circleville, Kansas area. Red had five siblings, two of which also served in the armed forces. The eldest, Clyde, however, contracted polio and couldn't be in the military so he helped in other ways making supplies for the war effort. Red's sister, Dorothy, was an army nurse who served in Europe and Africa. His brother, Kenneth, was a pilot.
At the age of 20, Red married Vera Zirger. She became acting director of Brown County Social Welfare. They had one daughter, Mary Beth Dugan, who was born in 1952.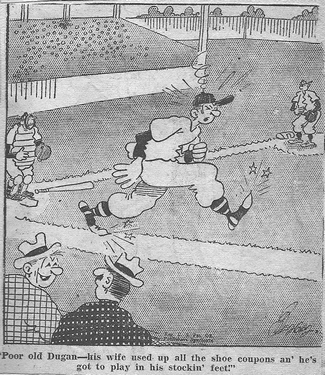 Red loved sports, although he said his older brother Clyde was always better than he was. He played semi-pro ball in Goff, Kansas, at the age of 16 in 1929. Before he entered college at the University of Kansas in 1937, the Holton High School athlete tried out for the New York Yankees. The Yankees were interested in the youngster for their Kansas City Blues farm team, but he pitched a thirteen-inning game for the try out and threw his arm out. Since he did not sign a contract, he was able to play college ball and went to the University of Kansas on a football scholarship, also playing basketball and baseball. Dugan played football and basketball in 1938, and played baseball from 1938 to 1940. During 1939 and 1940, he also served as assistant basketball coach under Forrest "Phog" Allen – the "Father of Basketball Coaching.
With military service looming, Phog Allen, wrote Commander T J Hamilton at the Navy Department in Washington, DC, in November, 1942, recommending Dugan for service in helping in physical fitness in the Navy. "I recommend Ralph Dugan without reservation or evasion," wrote Allen. "He is, in my opinion, highly qualified for this type of work and will do a good job in whatever he undertakes. His character and habits are of the highest quality. He is a hard worker, thoroughly dependable and reliable, and uses his head in getting the job done."
However, Dugan didn't take up a position with the Navy, he served, instead, with the Army Air Corps at Basic Training Center No. 4 in Miami Beach, Florida, where he played football and pitched. Then, in 1943, he was assigned to Las Vegas Army Air Field and coached the Horned Toads baseball team for the next three seasons.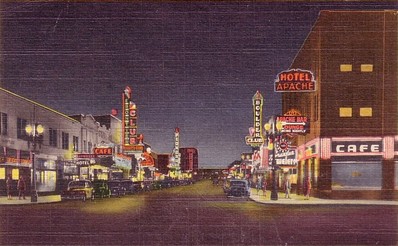 Downtown Las Vegas in 1943
Las Vegas Army Air Field (LVAAF) was eight miles northeast of Las Vegas and was the town's local airport before the war. Las Vegas, at that time, was not the place it is today. In 1940, Las Vegas had a population of just 8,422, thanks mainly to the building of the Boulder Dam. It was not the casino rich tourist trap we see today, although it did have two hotels on the highway and traditional gambling spots in the bars and small hotels clustered around the railroad station, which served the entertainment needs of servicemen during the war.
The airport was taken over by the Eastern Training Flying Command in December 1941, as a training field for aerial gunners, the first of its kind in the United States. But one thing the Army Air Force insisted on was that the large and legal red light district be shut down for the duration of the war. By 1944, LVAAF was training gunners at a rate of 25,000 a year. Along with Basic Magnesium Inc, in nearby Henderson bringing thousands of war workers to the area, it is safe to say that Las Vegas made the most dramatic change of any city in the nation during WWII and by 1950 it could claim a population of over 28,000.
During basic training it was found that Dugan had warts on his feet. He wanted desperately to have them removed while in the military. Unfortunately, it took a while before the surgery was approved since it was believed he came to the military with this condition. When surgery was completed, he ended up with an infection that nearly took his legs. He walked with a limp the rest of his life, and the scars on his feet kept him from active duty. He was able to stay in the military, however, and to continue the coaching and physical training of troops at Las Vegas.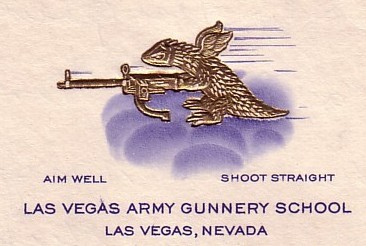 The Horned Toad, symbol of the Las Vegas Army Gunnery School that was adopted by the airfield's baseball team
The Horned Toads were one of the strongest baseball teams in Nevada during World War II. Coached by Lieutenant Robert E Murray of Santa Barbara State College and led on the field by Ernie Wade of the Philadelphia Athletics and Alex Oshkello, a catcher in the New York Giants' organization, the Horned Toads' 1943 season included victories over the Albuquerque Flying Kellys; Williams Field of Phoenix, Arizona; Wendover Field of Utah; and Victorville Army Air Field of California.
On July 25, 1942, the Horned Toads faced Reno Baseball Club for the state semi-pro baseball championship at Idlewild Park (a softball field converted for baseball) in Reno. At stakes for the game was a trophy presented by the National Semi-Pro Baseball Congress, $150 donated by Harold's Club of Reno, 60 per cent of the money collected by passing a hat through the stands (there was no admission fee), and the right to compete in the national semi-pro tournament in Wichita in August.
Reno Baseball Club were the defending champions and 3,000 fans bulged the bleachers and lined the field for a record crowd at Idlewild, only to see the local boys beaten, 7 to 1, by the Horned Toads on the three-hit pitching of Ernie Wade, and four hits (including two doubles) by right fielder Johnny Arden.
For the semi-pro finals, the Horned Toads made the journey to Wichita, Kansas by plane. But their winning streak soon came to an end as they were beaten, 7-1, by the 326th Glider Squadron from Alliance, Nebraska, on August 17 and then eliminated in a 10-2 rout by the Fort Riley Centaurs the following day.
1943 Las Vegas Army Air Field Horned Toads Roster

Name

Position

Previous baseball experience

Lt Norman B Forster

athletic director

Lt Robert E Murray

outfield-coach

(Santa Barbara State College)

Sgt Red Dugan

coach

Sgt Ray Woodrum

pitcher

Sgt Alex Oshkello

catcher

(property of New York Giants)

T/Sgt Leon "Red" Skidgel

first base

(Knoxville of Southern Association)

Sgt Albert Gallo

second base

(House of David and Tigers' organization)

Sgt Joe Wojcicki

third base

(Michigan State College)

Cpl Charles A Tyler

shortstop

Cpl Robert St Pierre

leftfield

(Colby College)

T/Sgt Frank Rippee

centerfield

Sgt Lester Wagaman

rightfield

(Earned Purple Heart at Pearl Harbor)

Pvt Julian Labadie

pitcher

(San Francisco Seals)

Pvt Ernest Wade

pitcher

(Philadelphia Athletics)

PFC Willis Shafer

outfield

Pvt Roland Meres

pitcher

(semi-pro from New York who could pitch with both hands)

Pvt Donald Stein

infield

Pvt Claire Stenglein

infield

(Ohio State College)

Johnny Arden

catcher-outfield

(played for Reno in the Sierra-Nevada League)

Warren Soetever

unknown

Eugene Kuhner

unknown

(Muskogee of Western Association)
1944 witnessed a major change in personnel at LVAAF. Lieutenant Robert Murray transferred to Indians Springs as athletic director. Leon Skidgell, Joe Wojcicki and Charles Tyler also transferred to Indian Springs Army Air Field. Johnny Arden joined the Reno Baseball Club for 1944.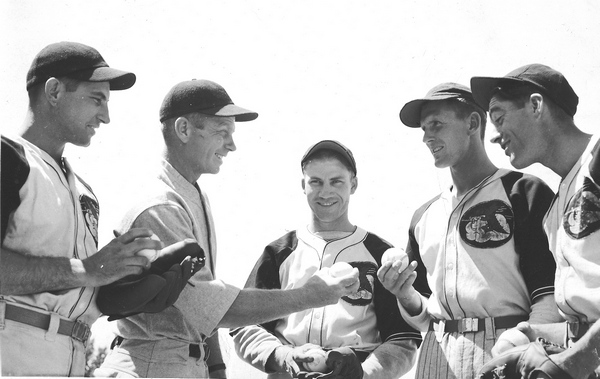 Red Dugan (second left) discusses pitching techniques with Hal Caskey (fourth left).
Early season victories over Indian Springs AAF Indians, Tonopah AAF Gunners, Victorville AAF and the Las Vegas town team, showed the team were still competitors and secured a birth in the state semi-pro tournament.
In 1943, the state semi-pro championship had been decided by a single game between the Horned Toads and Reno Baseball Club. A year later the event had expanded to a two-day tournament at Moana Park, Reno, with a $200 prize from Harold's Club and a ticket to the National tournament in Wichita. Teams competing in 1944 along with the Horned Toads were Tonopah AAF, Indian Springs AAF, Reno AAF and Reno Baseball Club.
On July 15, 1944, the opening day of the tournament, Hal Caskey pitched a 9-0 no-hitter for the Horned Toads against Reno Baseball Club. The following day the Horned Toads clinched the state title with a 6-1 win against Indian Springs – Rudy Korach allowing just five hits.
1944 Las Vegas Army Air Field Horned Toads Roster

Name

Position

Previous baseball experience

Sgt Red Dugan

coach

2nd Lt Hal Caskey

pitcher

(Norfolk of Western League)

Rudy Korach

pitcher

Oshkello

catcher

Soeteber

first base

Farris

second base

Stine

third base

Levanti

shortstop

Burgess

leftfield

Evans

centerfield

Mugge

rightfield

Cardinals' pitcher Howie Pollet and Joe Marty of the Phillies were both at LVAAF at some point in 1944.
Another relocation of personnel meant that the 1945 Horned Toads team had a different look from previous seasons. They also faced much stiffer competition and dropped three games early in the season.
The 1945 Nevada state semi-pro tournament was to prove bigger than ever with eight teams competing over the weekend of July 28 and 29 at Moana Park in Reno. The teams eligible to take part were the Horned Toads along with Reno Baseball Club; Herlong, California; Reno AAF; Tonopah AAF; Fallon Naval Air Station Airdales; Indian Springs AAF; and the Portola Railroaders.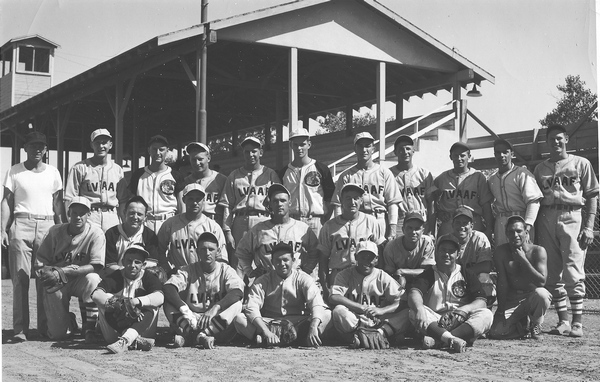 1945 Las Vegas Army Air Field Horned Toads (Red Dugan is back row, first left).
The two-time defending champions were quickly eliminated, beaten by Reno AAF, who came from behind in the seventh inning to win, 3-2. Indian Springs AAF went on to win the tournament but it was the Las Vegas AAF Horned Toads who would represent Nevada at Wichita. Unfortunately, they were knocked out in the early rounds.
After the war, Red Dugan went back to the University of Kansas and restarted the baseball program there. He finished his degree in physical education and became a teacher. He ended up in Hiawatha, Kansas as a coach and teacher for 30 years, starting the summer recreational program in Hiawatha, coaching baseball and managing the swimming pool.
In 1990, Ralph "Red" Dugan was honored by the mayor of Hiawatha with an official day. It was called Ralph "Red" Dugan Day. A golf fund raiser for a University of Kansas scholarship had been going on for five years, and the scholarship was also named after Red. The event was continued for several years beyond Red's death in 1992. He is buried beside his wife who served in the USO during the war, and also worked at the army post in Las Vegas.
Red Dugan passed away at Hiawatha Hospital in Kansas, on July 5, 1992. He was 79 years old and is buried in Hiawatha.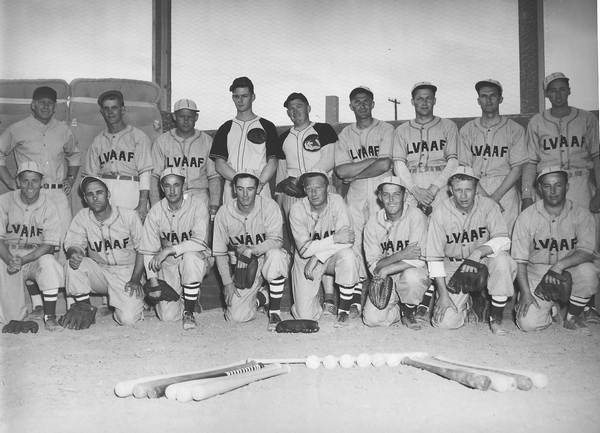 1945 Las Vegas Army Air Field Horned Toads (Red Dugan is back row, first left).
Special thanks to Red Dugan's granddaughter, Dawn Meisenheimer Lewis, for help with this biography and for supplying the photos.
Created May 27, 2007.
Copyright © 2015 Gary Bedingfield (Baseball in Wartime). All Rights Reserved.