Go on, why not sponsor this page for $5.00 and have your own message appear in this space.


Click here for details



Roy Bullymont
Date and Place of Birth:
January 20, 1919 Queens, New York
Died:
Millerton, New York
Baseball Experience: Semi-Pro
Position: Pitcher
Rank: Unknown
Military Unit:
93rd Bomb Group USAAF
Area Served:
European Theater of Operations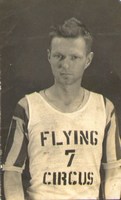 Roy Bullymont was an outstanding basketball player and pitcher before the war and had a tryout with the New York Giants. He was in England with the 93rd Bomb Group in 1943 and played baseball with the 93rd Traveling Circus.

Bullymont threw his arm out while in service and only played baseball occasionally with local teams. He continued to play basketball after the war with the Millerton Pros in the semi-pro Mid-Hudson League.
He worked for New York state as a painter which gave him time to officiate high school, inter-state and collegiate baseball, along with football, soccer and basketball. He was inducted in the Dutchess County (NY) Sports Museum Hall of Fame.
Created July 15, 2006. Updated January 21, 2007.
Copyright © 2007 Gary Bedingfield (Baseball in Wartime). All Rights Reserved.