Frank Baumholtz
Date and Place of Birth: October 7, 1918 Midvale, Ohio
Died: December 14, 1997 Winter Springs, Florida
Baseball Experience: Major League
Position: Outfield
Rank: Unknown
Military Unit: US Navy
Area Served: Atlantic and Pacific
Major League Stats: Frank Baumholtz on Baseball-Almanac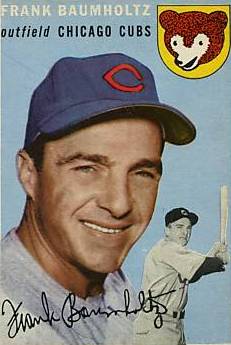 Frank C Baumholtz was born on October 7, 1918 in Midvale, Ohio. He gained fame at Ohio University as an All-American basketball player and signed with the Cincinnati Reds in 1941. In his only pre-war season (1941) Baumholtz played for Riverside of the California League and Ogden of the Pioneer League.
He entered military service with the Navy in 1942 and served as an officer in charge of a gun crew on merchant ships making Atlantic crossings. In January 1944, he went to sub-chaser school in Miami and then to the amphibious forces. He made skipper of an LCI mortar ship in the Pacific and was group commander in the Saipan and Iwo Jima invasions. Going into Iwo Jima, his ship had part of the stern shot away but Baumholtz escaped injury.
Baumholtz was discharged from service in December 1945 and immediately signed with Youngstown of the National Basketball League. In the spring of 1946, he was back playing baseball and batted .343 with Columbia of the South Atlantic League. The 28-year-old outfielder joined the Cincinnati Reds in 1947 and played 151 games his rookie year, batting .283 with 32 doubles.
In 1948 he raised his average to .296 and was traded to the Cubs in June 1949 where he finished the season. But in 1950, the Cubs sent him to Hollywood of the Pacific Coast League where he batted an incredible .379 and was back in Chicago in 1951, remaining through 1955. Baumholtz ended his playing days with the Phillies in 1957, having played 10 seasons in the majors and appeared in 1,019 games for a .290 average.
On February 4, 1995, his number 54 jersey that he wore with the Ohio University basketball team was retired. The day was declared "Frank Baumholtz Day" in the city of Athens, Ohio.
Frank Baumholtz passed away on December 14, 1997 in Winter Springs, Florida. He was 79.
Created April 28, 2008.
Copyright © 2015 Gary Bedingfield (Baseball in Wartime). All Rights Reserved.