Cookie Lavagetto
Date and Place of Birth: December 1, 1912 Oakland, California
Died: August 10, 1990 Orinda, California
Baseball Experience: Major League
Position: Infield
Rank: Chief Aviation Machinist Mate
Military Unit: US Navy
Area Served: Pacific Theater of Operation
Cookie didn't join up to wear a fancy uniform. He enlisted as a plain gob and requested only one favor. He asked for active duty.
Art Cohn, sports editor Oakland Tribune March 19, 1942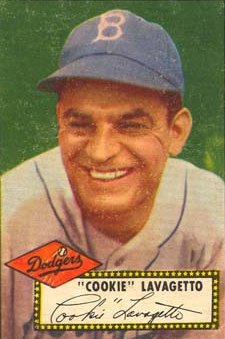 Harry A "Cookie" Lavagetto was born on December 1, 1912 in Oakland, California. Shortly after he graduated from Oakland Technical High School, the big league scouts saw Lavagetto in an All-Star game against some major leaguers, and signed him up with the Oakland Oaks of the Pacific Coast League. He made his first appearance with Oakland on April 9, 1933 and batted .312, making his major league debut with the Pittsburgh Pirates in 1934. After three seasons as a utility infielder with Pittsburgh, Lavagetto was traded to the Dodgers in December 1936. He became a regular in Brooklyn switching from second base to third base after the 1937 season. Lavagetto was an all-star for four years beginning 1938, and in 1939 – his best season – he batted .300 with 87 RBIs. Lavagetto also played in the 1941 World Series against the Yankees.
In late January 1942, Lavagetto filed his application for enlistment with the Navy. On February 17, he was sworn in as an aviation machinist mate first class by Lieutenant Commander A R Mack, in charge of recruiting for the 12th Naval District at San Francisco. Shortly afterwards, he reported for duty at Naval Air Station Alameda.
"We don't think enough credit has been given to Cookie Lavagetto for his enlistment in naval aviation," wrote Bob Considine on February 3, 1942, in his weekly column On The Line. "After all, most of the athletes who have gotten wild applause of late for their patriotism, were drafted into the services. Lavagetto, several times chosen as the best third baseman in the National League, and with five or six prosperous years of baseball before him, was in Class 3-A and might have remained there even if we were invaded as deep as Akron.
"He enlisted the moment his brother, whom he had been supporting (along with a number of others) got a defense job. He felt morally called upon to give to the government his ability to fly a plane. Anyway, my lid's off to a good, game guy who, with a minimum of fanfare and under no compulsion, is doing his bit."
| | |
| --- | --- |
| | |
| Lavagetto (right) sworn in by Lt Cmdr A R Mack on February 17, 1942. | Manuel Duarte and Vic Dovincenzi, owners of the Oakland Oaks, study Lavagetto's Navy headwear in June 1942. |
Lavagetto found time to play baseball while with the Navy in California. On June 22, 1942, he captained the Navy All-Stars that beat the Oakland Oaks, 5-4. The eleven-inning clash raised $7500 for the Navy Relief fund.
In August 1942, Lavagetto moved to the Naval Auxiliary Air Station Oakland and was soon an integral part of their baseball activities.
On June 5, 1943, he played in an Army-Navy all-star game at Seal Stadium in San Francisco. With a line-up included that featured Charlie Gehringer, Bill Wight, Ray Lamanno, Joe Hatten and Dario Lodigiani, the Navy won 7-6. By September 1943 Lavagetto was playing ball at Naval Air Station Livermore in California. The NAS Livermore Fliers clinched the local Army-Navy league title, winning 60 of 70 games.
On April 10, 1945, Lavagetto married Mary Poggi in Oakland, California. The following month he was shipped to Hawaii where he managed a Ship Repair Unit ball team – one of the players under his guidance in Hawaii was a young Stan Musial.
Lavagetto was back with the Dodgers in 1946. He had missed four major league seasons and was now 33 years old, but the Dodgers held on to him because teams were allowed to keep three extra GI veterans. In spring training, he injured his arm and had an operation to remove a bone chip. He played 88 games and batted just .236. But Lavagetto still had his finest moment ahead of him with a ninth-inning double that spoiled a no-hitter for Yankees' pitcher Bill Bevens in the 1947 World Series. That post season competition, however, was to mark Lavagetto's final appearance as a major league player.
Lavagetto returned to the Oakland Oaks - first professional team he played for – and remained with the from 1948 to 1950. He was a coach with the Brooklyn Dodgers from 1951 to 1954, the Oaks in 1954 and the Senators in 1955. Lavagetto got his first managing job with the Senators in 1957 and remained there when the franchise moved to Minnesota in 1961. He returned to coaching with the New York Mets in 1962 and 1963, then coached his hometown Giants from 1964 to 1967.
Harry Lavagetto passed away at his home in Orinda, California on August 10, 1990. He was 77 years old.
Created February 27, 2007. Updated April 13, 2007.
Copyright © 2007 Gary Bedingfield (Baseball in Wartime). All Rights Reserved.