Go on, why not sponsor this page for $5.00 and have your own message appear in this space.


Click here for details



Those Who Died That Others Might Be Free
World War II Hero of the Minor Leagues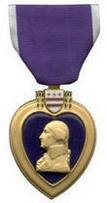 Earl Springer

Date and Place of Birth: 1918 Hagerstown, Maryland
Date and Place of Death: January 25, 1945 Nennig, Germany
Baseball Experience: Minor League
Position: Pitcher
Rank: Sergeant
Military Unit: Company B, 7th Armored Infantry Battalion, 8th Armored Division
Area Served: European Theater of Operations

Zipping his fireball through the murky air with electrifying force and mixing with it a hook which darted in and around enemy bats with snakelike effect, southpaw Earl Springer, 19-year-old senior from Hagerstown, pitched a five-inning, no-hit, no-run game yesterday as Maryland blanked Rutgers, 3-0, at College Park.
Washington Post April 2, 1939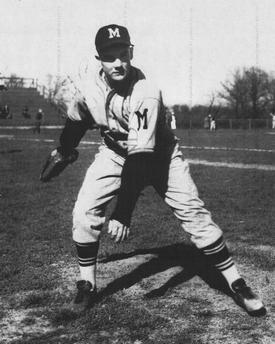 Earl B "Lefty" Springer was born in Hagerstown, Maryland in 1918. One of eleven children, Springer was an excellent left-handed pitcher at Hagerstown High School, and also played with Sharpsburg and the Hagerstown Cabbies in the local Washington County League. Springer went on to play baseball and soccer at the University of Maryland and was selected "outstanding senior" on the baseball team in 1940. "Springer, who threw a five-inning no-hitter against Rutgers last month," announced the Washington Post on May 21, 1939, "pitched, perhaps, his greatest game yesterday in throttling Georgetown's heavy hitters."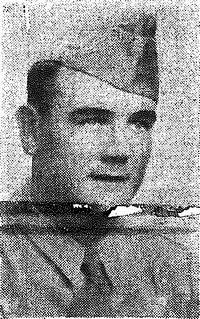 He signed a professional contract with the Baltimore Orioles in 1940. The following season Springer pitched for the Hagerstown Owls of the Interstate League and was called up to Baltimore at the end of the season. It was to be his last year in professional baseball.

Springer was inducted in the Army on January 15, 1942. "Tommy Thomas, manager of the Orioles," announced the Washington Post on January 14, 1942, "said today that Earl Springer, Hagerstown lad who is one of his brightest young mound prospects ... will probably be called to colors within a week."
He received his training at Fort Knox, Kentucky and then joined the 7th Armored Infantry Battalion of the 8th Armored Division at Camp Polk, Louisiana. It was at Camp Polk that Sergeant Earl Springer pitched a number of games for the 8th Armored Division. The team included Heinie Mueller of the Philadelphia Phillies.

In October 1944, the 8th Armored left Louisiana for Camp Kilmer, New Jersey - staging camp to Europe. The division sailed on November 7 and arrived in England on November 22. They encamped at Tidworth Barracks (former home of the 29th Infantry Division) and began six weeks of preparation for combat in Europe. The 8th Armored Division arrived in France at the beginning of 1945, where Earl's brother Robert was serving with the infantry.

In freezing winter conditions the 8th Armored advanced to Pont a Mousson, arriving on January 12. This would be the launching point for the division's initial engagement. On January 16, Earl Springer wrote a letter to his parents while waiting to go into combat - it was to be his last.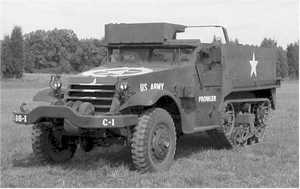 After dark, on January 24, the 7th Armored Infantry Battalion (7AIB) moved up to its assembly point at Besch in Germany in preparation for the next day's attack. At 0550 on January 25, 7AIB launched an attack on Berg against strong enemy resistance. Springer was with Company B which consisted of five platoons. Each platoon was assigned an M3 armor-plated half-track. The battalion's first engagement with the enemy was not a good one and Company B suffered many casualties including the death of the company commander Captain Grover Hermann and the division's pitching ace, Sergeant Earl Springer.
Earl Springer is buried at the Luxembourg American Cemetery. "He had so much going for him," recalled his sister, Doris Springer. "He said when he went over if he couldn't come back the way he went over, he wouldn't want to come back."
Notified of his death by telegram, the family decided to allow Earl to be buried at the American military cemetery in Luxembourg rather than return his body to the United States. "If Earl was brought home in a casket," said his brother Carl Springer, "that would be like getting the telegram twice, and once was bad enough."
But the story doesn't end there. Since 1945, Luxembourg native Jean Folschette has carried flowers to the grave of a man he never knew. Folschette "adopted" the grave as an expression of gratitude to American soldiers who liberated his homeland from the grip of the Nazis.
"He thinks he owes the American people a gratitude of love," Carl Springer said of Folschette. The Springer family spent many years corresponding with Folschette. In turn, he would send photos of the newly decorated grave.
In 1973, Folschette visited the Springers in Hagerstown, and a few years later Carl Springer visited Luxembourg. Folschette has always refused offers to pay for the flowers.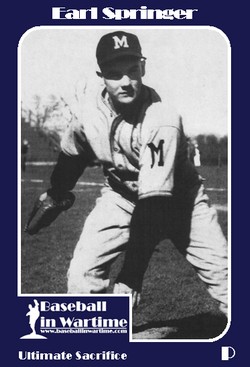 Thanks to Randy Springer, Earl's nephew, for information and a copy of a 1989 article about Earl. Thanks also to Joseph Berger at the Washington County Free Library for supplying Earl Springer's obituary. Thanks to Maurice Chauvet of Company B, 7th Armored Infantry Battalion and Anne Turkos, University Archivist at the University of Maryland for help with this biography and the photo of Earl in baseball uniform.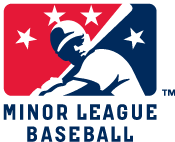 Added July 16, 2006. Updated June 10, 2007.
Copyright © 2007 Gary Bedingfield (Baseball in Wartime). All Rights Reserved.