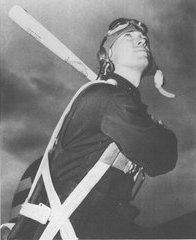 William Brooks "Billy" Southworth Jr was born in
Portland, Oregon
on June 20, 1917. His father was an outfielder with the Portland Beavers of the Pacific Coast League at the time and would go on to enjoy a 13-season playing career in the major leagues, 12 years as a major league manager and earn selection to the Baseball Hall of Fame in 2008.
The family home was in Columbus, Ohio and Billy Jr was a standout athlete at East High School and played semi-pro ball in Columbus after graduation. He also attended Ohio State University but did not play baseball while there.
In 1936, Southworth signed a professional contract to play baseball with the Asheville Tourists of the Piedmont League. He played 29 games with the Class B team, batted .253 and ended the year with the Martinsville Manufacturers of the Class D Bi-State League where he hit .340.
In 1937, Southworth again began the season with Asheville but was optioned to Class D ball. He was with the Kinston Eagles in the Class D Coastal Plain League in 1938 - appeared in 103 games and batted a respectable .283 with 14 home runs, 78 RBIs and 22 stolen bases.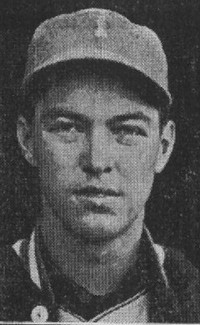 1939 was to be Southworth's best year in professional baseball. Playing with the Rome Colonels of the Class C Canadian-American League, the 6-foot 178-pound outfielder batted .342, homered 15 times, had 85 RBIs and stole 20 bases to earn league MVP honors. At the end of the season Southworth was sold to the Toronto Maple Leafs of the International League - one level below the majors. He began the season in Toronto and despite getting five hits in his first eleven at-bats he soon cooled down and spent the majority of the season with the Wilmington Blue Rocks of the Inter-State League, coming back to Toronto for the last few weeks of the season.
Meanwhile, war was raging across Europe and Southworth had been paying particularly close attention. "I think it's my duty to enlist, because they're going to need us," he told his father who was now managing the Rochester Redwings of the International League. Billy Sr persuaded his son to wait until after the baseball season to think it over. But on December 12, 1940, Southworth enlisted in the US Army Air Corps. He is recognized as the first professional baseball player to voluntarily enlist in the armed services in WWII.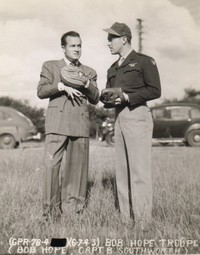 Joining the Air Corps was an easy choice for Southworth. He had always had a fascination with aviation - building model airplanes and reading books given to him by Warren Giles, who would later become the General Manager of the Cincinnati Reds. Southworth began his training at Parks Air College in East St Louis, Illinois and then Randolph Field, Texas on April 1, 1941. He was transferred to Brooks Field, Texas on August 29, 1941, where he received his bomber pilot's wings. Southworth continued his training, transferring to Orlando Army Air Base, Florida on February 2, 1942. His next assignment was at Pendleton Field, Oregon, before moving to Gowan Field in Boise, Idaho in March 1942, where he took command of a B-17 and was promoted to first lieutenant. He was later assigned to patrol duty at Muroc Lake Army Air Base in California, and then to Alamogardo, New Mexico for three months. He was at El Paso Army Air Base until October 1942.
Towards the close of the 1942 baseball season, Billy Jr visited his father - now managing the St Louis Cardinals - at Chicago's Wrigley Field. It was their last time together before Billy Jr left for combat duty in Europe via stops at Battle Creek, Michigan and Bangor, Maine.
Captain Southworth served with the 427th Bomb Squadron, 303rd Bomb Group at Molesworth in England, where his fellow airmen dubbed him "the flying outfielder."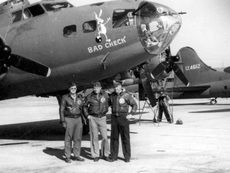 Southworth was a Boeing B-17 Flying Fortress pilot, flying daytime missions over enemy-occupied Europe. His first B-17 was christened "Bad Check" because it kept coming back. His second, "Winning Run" clearly referred to his baseball background, as did his habit of wearing a Cardinals' baseball cap he had been given by his father. The baseball cap rather than regular headwear provided better shade from the sun and allowed for the tight fitting of radio earphones. Pilots wearing baseball caps quickly became a popular sight.
Southworth completed his tour of duty in Europe - 25 missions - without a single injury to any member of his crew. He was awarded the Distinguished Flying Cross and Air Medal. "I was just another Joe, occupying a lucky seat with a fine crew," he later said. "I tried to manage 'em like Dad manages his Cardinals."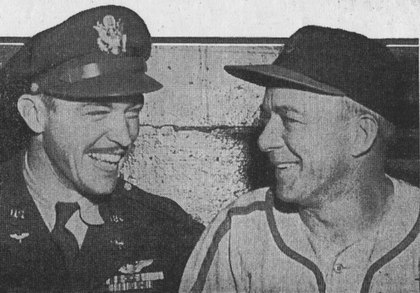 Southworth returned to the United States at the end of 1943. On a trip to the West Coast to visit friends, he was invited to a Hollywood benefit and introduced to the crowd. One onlooker was Hunt Stromberg, movie producer, who took am immediate interest in the handsome, husky Air Force pilot with black hair and a small dark moustache. Stromberg talked with Southworth and they agreed on a 10-year Hollywood movie deal to begin after the war.
Major Southworth served as an instructor in the United States and later served as deputy commanding officer of a newly organized task force of the Second Air Force.
While stationed at Salt Lake City, Utah, Southworth was interviewed by PFC Howard Green, former Abilene (Texas) Reporter-News sports writer, who was also stationed at the base. Southworth told Green that "baseball is the universal language of our troops overseas and should be continued in the face of all obstacles.
"Our fighting men are not concerned with the player personnel but still follow their favorite team as fervently as ever. Baseball is something they have in common and the national pastime is doing a tremendous job as a morale factor in deviating their minds from the problems of warfare."
In October 1944, Southworth was a guest of his father at the World Series. Watching his father's Cardinals' defeat the Browns in six games was the last baseball Billy Jr would see.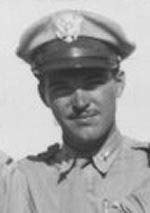 On November 28, 1944, Southworth visited his father at home in Sunbury, Ohio before leaving for duty at Grand Island Army Air Field in Nebraska - an operational training base for heavy bomber crews. It was their last time together.
Major Southworth was training pilots to fly the Boeing B-29 Superfortress - the same airplane that would later drop atomic bombs on Hiroshima and Nagasaki. On February 15, 1945, Southworth was piloting a B-29 that left Mitchel Field in New York bound for Florida. Major W L Anken, an observer aboard the B-29 noticed that one of the engines was throwing a heavy stream of smoke. He reported this to Southworth over the intercom. "Keep an eye on it," Southworth replied. At 3.50pm the four-engined bomber appeared over LaGuardia Field with the left outboard engine stopped. Southworth radioed the control tower to prepare for an emergency landing. Struggling at the controls of the huge plane, Southworth overshot the runway. He attempted to climb above Flushing Bay but the airplane clipped the water and the 74,000 pound bomber somersaulted and burst into flames. Sheets of flame shot sky high and heavy acrid smoke quickly blanketed the whole area.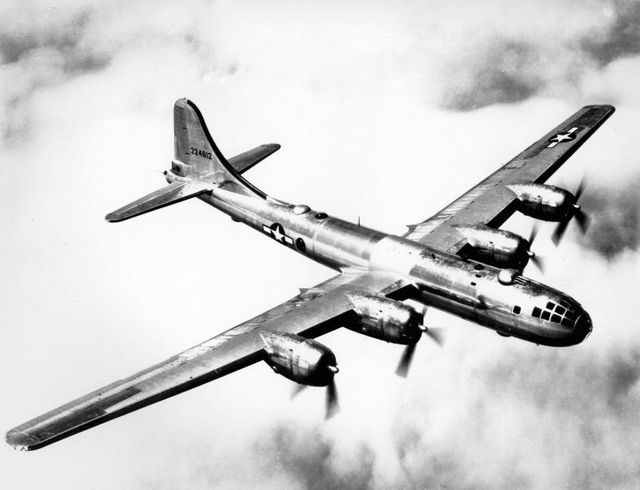 Police launches rushed to the scene and battled against the flames and smoke to rescue five crew members. But a further five - including Major Billy Southworth Jr - were missing in the front section of the plane which sank in 30 feet of water. Every effort was made to recover the bodies of the missing airmen but strong currents and a high tide hindered the work of grapplers and divers into the night.
The following day Southworth's grief-stricken father flew to New York. Comforted by his wife, Mabel, Billy Jr's stepmother, he looked out at Flushing Bay and asked reporters to point out the spot where the crash had happened. Messages of condolence soon flooded in, among them was one from Hunt Stromberg:
I simply cannot find words to express my sympathy for you and yours. I was looking forward to Billy's return safely more for personal interest, for in all my life and motion picture career I can truthfully say that I never met a young man I liked as richly and completely as your son. I told him one day that I wanted to adopt him as one of my sons. That is how much I cared for him. It is indeed a misfortune that none of us here can permanently recover from.

On August 4, 1945, 24 weeks after the crash, a body washed ashore at the confluence of the East River and Long Island Sound. Dental records identified the body as Billy Southworth Jr. He was buried on August 7, 1945 at Columbus, Ohio.
The following year the Rome Colonels erected a plaque at Colonels Field in memory of their 1939 Most Valuable Player.