Go on, why not sponsor this page for $5.00 and have your own message appear in this space.


Click here for details



Those Who Died That Others Might Be Free
World War II Hero of the Minor Leagues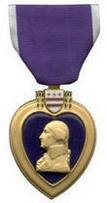 Art Sinclair
Date and Place of Birth: 1918 Haddonfield, New Jersey
Date and Place of Death: January 26, 1944 Italy
Baseball Experience: Minor League
Position: Pitcher/Outfield
Rank: Technician Fifth Grade
Military Unit: 83rd Chemical Battalion, Motorized US Army
Area Served: Mediterranean Theater of Operations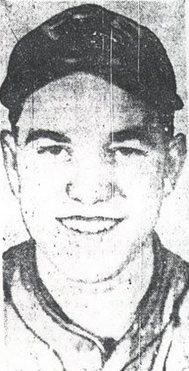 Arthur H "Art" Sinclair was born in Haddonfield, New Jersey in 1918. Sinclair was a star athlete at Haddonfield Memorial High School and was signed by the New York Giants after graduating.
By 1936, he was pitching and playing outfield in the independent leagues in Camden County with the Lucas Athletic Association team in the Lower County League and the New York Shipbuilding Corporation team in the South Jersey League. He was one of the leading hitters in the Camden County League and led the league in hitting in 1942 with a .491 average.
Sinclair was inducted in the Army on July 9, 1942 at Camden, New Jersey. He was a Private in Company C, 83rd Chemical (Motorized) Battalion at Camp Gordon, Georgia during 1942, operating chemical mortars, firing phosphorous and smoke rounds, and was promoted to Private First Class with Motor Pool (Company C) on January 25, 1943.
Technician Fifth Grade Sinclair lost his life when the landing craft he was in, LST-422, was sunk off the coast of Italy at Anzio on January 26, 1944. His body was never recovered. The sinking of LST 422 took over half the lives of companies C and D. It was the worst single loss of life for the 83rd Chemical Battalion in the entire war.
Art Sinclair is memorialized at the Tablets of the Missing at Sicily-Rome American Cemetery in Nettuno, Italy.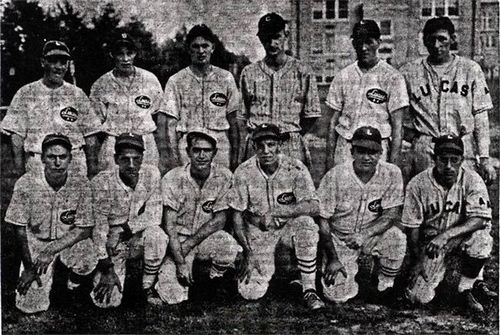 The Lucas Athletic Association team, Lower County League champions in 1934 (Sinclair is front row, fourth from left)
Some of the information contained in this biography was found at www.dvrbs.com. Thanks also to Terry Lowry, official historian of the 83rd Chemical Mortar Battalion for sharing information from his forthcoming book entitled Bastard Battalion: A History of the 83rd Chemical Mortar Battalion in World War II.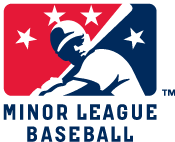 Added November 29, 2006. Updated August 29, 2007.
Copyright © 2007 Gary Bedingfield (Baseball in Wartime). All Rights Reserved.