Go on, why not sponsor this page for $5.00 and have your own message appear in this space.


Click here for details



Those Who Died That Others Might Be Free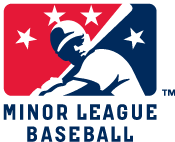 Glenn Sanford
Date and Place of Birth: April 17, 1919 Clare, Michigan
Date and Place of Death: November 6, 1943 Susicon Bay, California
Baseball Experience: Minor League
Position: Pitcher
Rank: Second Lieutenant
Military Unit: 380th Fighter Squadron, 363rd Fighter Group USAAF
Area Served: United States
Glenn was a congenial young man with a pleasing personality and a very promising future in his chosen field of baseball, and his many friends join the family in their deep sorrow of today, which gives promise of mellowing in the days to come with the knowledge that he gave his all for the noble purpose of bringing justice and freedom again to this earth that the generations to come may not know the grief of those who will pay tribute to him.
Fulton Daily Leader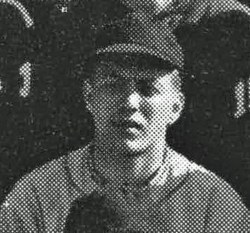 Glenn F Sanford was born in Clare, Michigan on April 17, 1919. The son of Dr and Mrs Frederick C Sanford, Glenn acquired the nickname "Doc" from an early age. He attended Clare High School where he played baseball, basketball and football. The 5-foot-7 lefthander was an outstanding high school pitcher and helped guide the Green Wave to the 1934 district tournament finals.
Sanford attended Hillsdale College in September 1937, pitching for the college team and attracting the attention of Chicago Cubs' scout, Dick Hallett, in his freshman year. However, his father convinced him to remain in school where he developed a reputation as an outstanding athlete in baseball and basketball. "Sanford is regarded as the number one hurler and has provided the students and fans with some fine exhibitions of pitching," claimed the college yearbook in 1939. His college record included a no-hitter, a three-hitter, and a 12-inning tie against Southern Michigan prison. Doc Sanford also played summer baseball with Post Products of Battle Creek. The team won the state amateur title and went to the finals of the National Amateur Tournament where they were beaten by Linden, New Jersey.
During his sophomore year at Hillsdale, professional baseball came calling again in the form of the Vancouver Capilanos of the Western International League. This time, Sanford could not resist and joined the team in Sunnyside, Washington for spring training. The young lefty was assigned to the Fulton Tigers of the Kitty League for the 1939 season. Still with the Tigers in 1940, he posted a 14-9 record with a 4.02 earned run average as the mainstay of the pitching staff.
Sanford was inducted in the US Army on February 13, 1941. He initially served with a coastal artillery battery at Camp Haan, California, where he often got the opportunity to limber up his pitching arm for the military team. After a year's training he transferred to the Air Force. Sanford trained as a fighter pilot and was commissioned a second lieutenant and was awarded his wings at Yuma Advanced Flying School, Arizona. Sanford was assigned to the 380th Fighter Squadron, 363rd Fighter Group, at Oakland Municipal Airport, California.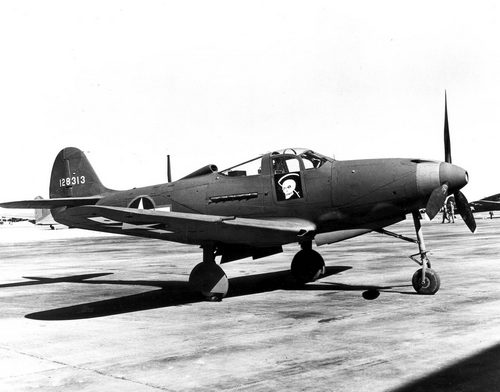 On November 6, 1943, Second Lieutenant Sanford was flying a Bell P-39 Airacobra on a routine patrol along the California coast when their was an engine explosion. The fighter plane crashed into the sea at Susicon Bay, about one mile east of Nichols, California. "It is with deep regret that I have learned of the death of your son," wrote Major General Barney M Giles to Sanford's parents on December 10, 1943. "The outstanding record that Lieutenant Sanford maintained during his cadetship in the Advanced Flying School at Yuma Army Air Field...is one of which you can be justly proud. During his career as a pilot, trustworthy and energetic performance of duty earned for him the praise and confidence of his superiors, and with a sterling character and high ideals he soon became a popular officer in his group."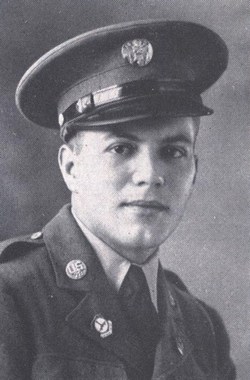 His body was later recovered, cremated and returned to his hometown, accompanied on the journey by Lieutenant Robert Stultz of Dayton, Ohio, who had served with Sanford during the past year. Second Lieutenant Glenn Sanford was buried at Cherry Grove Cemetery with full military honors.
"I have been thinking a lot today of a boy I knew a few years ago," wrote the sports editor of the Fulton Daily Leader on March 8, 1944. "For I have just finished reading the various stories concerning him which appeared in his home town newspaper after his tragic death in a fighter plane last November. Many Fulton people knew him well, for he was quite a figure here during the 1940 baseball season.
"This boy was Glenn Sanford, commonly called "Doc" here, and one of the cleanest and most attractive boys who ever came here during the seven years the Kitty League operated. I clearly remember the first game I saw him pitch, and perhaps the first game he pitched here. I did not see the entire game, for I was called away about the fourth inning, but I remember how surprised I was the next day to find the final score of the game.
"Fulton was playing Jackson that night and this slight, casual looking boy started his pitching against veteran Jess Webb. Old Jess usually beat Fulton, and I was more or less resigned to taking a licking, but was curious as to what the new boy would do. I knew nothing about him, for he had come without any advance notice and I had not happened to see him before that night. I was highly critical when he started pitching, for he seemed so utterly casual about the game. But I did notice one thing, unlike a lot of pitchers we have had here in past years. This kid from Michigan seemed to throw the ball where he wanted it to go. If he pitched outside it still nicked the plate enough to tease the hitter into swinging, or having the umpire call a strike. He did not make any wild pitches, and every ball which came up there almost good enough to be called a strike, yet not good enough to let the Jackson hitters take a toehold and swing hard. These Jackson players were hitting a lot of balls high in the air, but they were getting no resounding, middle-of-the-ball drives. But I thought they would before the game was over, for the boy did not seem to have a lot on the ball. Next morning though, I learned that he pitched a shutout, whipping Old Jess Webb 7 to 0. That was the but the beginning and Sanford won a lot of games and was especially effective against Jackson. I think he shut that team out two or three more times in later games.
"Somehow I never got as well acquainted with this Michigan lad as I did with some others. He did come to the office a few times and I talked with him at those times, but for some reason or other never grew intimate with him. He kept a scrap book and now and then when he came here to get copies of stories of certain games this was about the only contact I had with him. But I saw him in every game he pitched here, and I grew to have a lot of confidence when I saw him stroll to the mound and begin to take his old slow motion warm up tosses. I saw him in a game or two when the opposing team got to him and I saw that he really had a lot of stuff to use when the going got tough. I do not recalled seeing him get shelled out of a game but one time, and that he came out with his head held high. It was not his heart that failed that day, it was merely his arm refusing to cooperate with his courage, and the next game he came right back with a shutout.
"All these things I remembered today as I read of his tragic death. Far above the California sea his plane exploded, and he hurled downward into the sea. No one knows the cause; it was simply one of those things which come so often these days when so many of our fine youths are training for combat. I am thinking of that day when he was shelled out of the game. He went with his head up. I have a feeling that he met his final challenge the same way."
Thanks to Barbara Blystone, the Clare County Review and Linda Moore, Public Services Librarian at the Hillsdale College Mossey Library for all their help and support with this biography.
Added September 19, 2006. Updated December 17, 2006.
Copyright © 2007 Gary Bedingfield (Baseball in Wartime). All Rights Reserved.