Go on, why not sponsor this page for $5.00 and have your own message appear in this space.


Click here for details



Those Who Died That Others Might Be Free
Curly Kopp
Date and Place of Birth: November 25, 1919 Buffalo Center, Iowa
Date and Place of Death: July 21, 1943 Mississippi River at St. Paul Park, MN
Baseball Experience: Minor League
Position: Outfield
Rank: Ensign
Military Unit: US Navy
Area Served: United States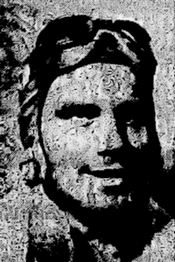 Carlyle J. "Curly" Kopp was born in Buffalo Center, Iowa, a small town in the northern part of the state. A four-sport athlete, Kopp starred in baseball, basketball, football and track at Buffalo Center High School. On May 13, 1937 — his senior year — he pitched a 4–0 no-hitter against Rake High School. He also pitched for the local American Legion team between 1933 and 1937 and played during the summer months of 1937 with the Forest City Collegians semi-pro team. The following season he pitched for the Key City Beverage team of Mankato, Minnesota.

Kopp attended the University of Iowa from 1937 to 1938 - participating in baseball, track and basketball - before transferring to Worthington Junior College in Worthington, Minnesota, where he played football and basketball; completing his degree in 1940.

Following graduation, Kopp signed with the local Worthington Cardinals (a St. Louis Cardinals farm club) of the Class D Western League and the young outfielder and lead-off hitter batted .263 in 85 games his rookie year, stealing 17 bases and driving in 23 runs.

Kopp was assigned to the Hamilton Red Wings of the Class D PONY League for 1941 but began the season with the Albany Cardinals of the Class D Georgia-Florida League. After batting just .193 in 19 games he returned to the Western League, joining the Sioux City Soos. Playing center field and leading off, Kopp batted .249 with 27 stolen bases in 104 games and was reassigned to Hamilton for the coming season. During the winter months of 1941-1942, he played basketball with the Buffalo Center Independents, helping them win the Class B championship of the North Iowa Independent Basketball Tournament.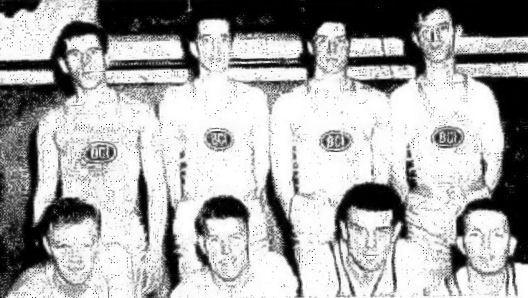 Curly Kopp (front row, third left) with the Buffalo Center basketball team in 1942
On April 22, 1942, Kopp entered military service with the Navy, traveling to the US Naval Reserve Air Base at Wold Chamberlain Field, Minneapolis, where he took a six week training course in naval aviation. Wold Chamberlain Field, which later became Minneapolis-St. Paul International Airport, is about 150 miles north of Buffalo Center and was used for educating naval aviation cadets in ground school and primary flight training. "I really like it hear but I miss playing baseball," he told the Buffalo Center Tribune in a letter dated June 16, 1942. "We haven't time to even play a little catch, but I guess we're here for something beyond our enjoyment."

Aviation Cadet Kopp wrote the Tribune again in July. "Just a line to let you know I've been moved [to the US Naval Air Station, Corpus Christi, Texas] from Minneapolis. I am down here . . . to finish my flight training. It's really hot down here, but I think I will get used to that in time. This is a very large place, and I like it fine. Sure hope I can do my job good enough to graduate."

Kopp earned his wings at the beginning of January 1943 and visited his family in Buffalo Center before heading to Norfolk, Virginia for assignment. From there he was assigned back to Wold Chamberlain Field (by this time it had been redisgnated US Naval Air Station, Minneapolis). "I'm stationed here as flight instructor," he told the Tribune in April 1943, "which means that I'm trying to teach these Cadets how to fly. A lot of them have never flown before, and you can imagine what a job it is. They always seems to do just what you tell them not to, and it sometimes gets on ones nerves, but I guess there are a lot of fellows who are in worse places than this, so I really shouldn't complain. I hope to be transferred back to active duty soon, and maybe do a little real flying again."

Again, baseball was on his mind. "We are having a baseball team here this summer," he wrote, "so maybe I'll be able to get to hit a few again. I've really missed that, but everyone can think of things they would be doing."

On May 12, 1943, Ensign Kopp married Patsy Ruth See at St. Mary's Catholic Church in Worthington, Minnesota. Now a happily married man who was looking forward to playing baseball during the summer and getting an active duty assignment, his dreams came to a crushing end on a bright summer afternoon in July.

At 4:00 P.M., on July 21, 1943, Ensign Kopp and Lieutenant Junior Grade Lyle F. Peters took off on a routine training flight with Kopp at the controls. An hour later, the Stearman N2S Kaydet crashed in shallow water in the Mississippi River near St. Paul Park, a suburb of St.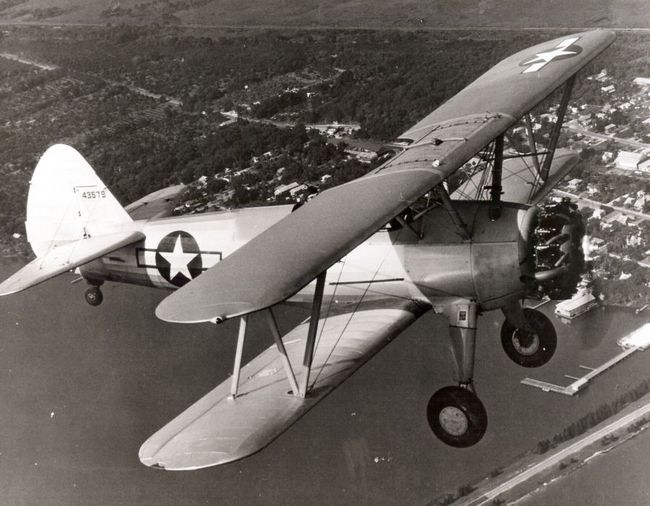 The body of Ensign Kopp was escorted to Worthington, Minnesota, the former home of his wife, by Ensign George H. Hubert, Jr., a close friend. Funeral services were held Saturday morning, July 24, at St. Mary's Catholic Church at Worthington, Minnesota, with the Rev. S. J. Hale in charge, assisted by Rev. B. White of St. Patrick's Church, Buffalo Center, Iowa.

The military burial at St. Mary's cemetery was conducted by The American Legion and Home Guard Company of Worthington. Pallbearers were H.G. Larson, Lt.(sg); J.D. Rigley, Lt.(jg); J.J. Hoban, Lt.(jg); N.W. Kurd, Lt.(jg); H. Knickelbine, Lt.(jg); and Ensign George H. Hubert, Jr.

The Buffalo Center Tribune published a worthy obituary for the 23-year-old flyer who had been married for just 10 weeks. In addition to describing his athletics exploits, the obituary also detailed how his "popularity was not confined to sports alone. He was of a very religious nature and during his sojourn at Worthington he assisted in religious instruction of children at St. Mary's Parish."

On April 10, 1944, nine months after his death, Curly's widow, Patsy, gave birth to a 7-pound baby boy.
Added November 11, 2006. Updated April 13, 2011.
Copyright © 2011 Gary Bedingfield (Baseball in Wartime). All Rights Reserved.