Go on, why not sponsor this page for $5.00 and have your own message appear in this space.


Click here for details



Those Who Died That Others Might Be Free
World War II Hero of the Minor Leagues
Stan Klores
Date and Place of Birth: May 3, 1916 Milwaukee, Wisconsin
Date and Place of Death: December 3, 1944 Ormoc Bay, Leyte, Philippines
Baseball Experience: Minor League
Position: First Base/Outfield
Rank: Lieutenant (jg)
Military Unit: US Navy
Area Served: Pacific Theater of Operations
If he continues his hustling and hits and fields as well as he has in the first few games this season, Stan won't be around Bloomington very long. He seems destined for the majors.
Bloomington Sunday Pantagraph May 15, 1938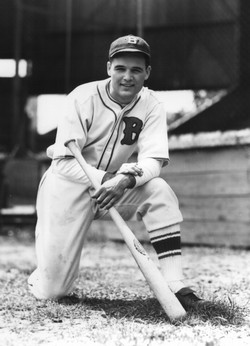 Stanley P. Klores was born in Milwaukee, Wisconsin, and grew up in West Allis, a suburb of the city. While he was a youngster in the 1920s, there was no youth baseball in West Allis, so the resourceful Klores set about organizing his own team. With the help of a local playground director, Klores established a six-team league. He was with the 52nd Street All-Stars. "None of the kids had any dough," he recalled some years later, "so when we were asked to put up a five dollar forfeit fee, I had to kick in with $4.17 of it. The other eight on the team scraped up 83 cents between them. When the league was abandoned because of a lack of balls for the games, I lost my dough. Boy, that was heartbreaking!"

Klores attended West Allis High School where he starred on the varsity baseball team, and in 1934 he played with the Holy Assumption CYO team that won its section championship and went to the national playoffs at Wrigley Field, Chicago. In the final game, Klores hit a single, double and triple to help Holy Assumption win. That performance drew the attention of Cubs vice president John Seys. Klores wrestled with the idea of a career in professional baseball but chose instead to enroll at Northwestern University at Evanston, Illinois, in the fall of 1934. He quickly made his mark on the athletic field at Northwestern and was ranked as the best end on the freshman football team. Furthermore, he was a certainty to play first base the following spring, but the Chicago Cubs were still interested, and when he realized he could play baseball in the summer and study during the fall and winter, he signed his first professional baseball contract. Together with University of Wisconsin pitcher Carl Vaicek, Klores joined the Cubs at Catalina Island, California, for spring training in 1935. The two youngsters trained there with Stan Hack, Kiki Cuyler, Chuck Klein and Phil Cavarretta.
For the 1935 season, Klores was assigned to the Peoria Tractors of the Class B Three-I League. The smooth left-handed hitting outfielder played 114 games for the Tractors and batted a highly respectable .283 with six home runs and 48 RBIs. The following year he began the season playing first base with the Portsmouth Cubs of the Class B Piedmont League, before joining the Asheville Tourists of the same league. In June of that same year—after 42 games in the Piedmont League that saw him batting .278—Klores was on the move again, joining the Huntington Red Birds of the Class C Mid-Atlantic League. He played 15 games with the Red Birds before moving to the Martinsville Manufacturers of the Class D Bi-State League, where he batted .330 in 66 games.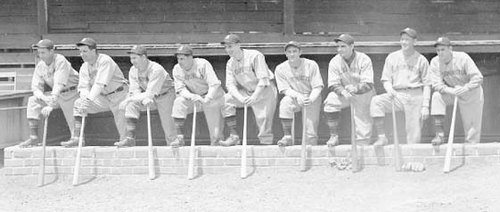 Bloomington Bloomers 1938. Stan Klores is second left

In 1937, Stan Klores joined the Montgomery Bombers of the Class B Southeastern League and hit .276, with a team-leading 69 RBIs. The Milwaukee Brewers of the American Association claimed the first baseman at the end of the season and assigned him to the Bloomington Bloomers of the Three-I League, the same league where he had begun his professional career in 1935. His season got off to a good start. "If he continues his hustling and hits and fields as well as he has in the first few games this season," announced the Bloomington Sunday Pantagraph, "Stan won't be around Bloomington very long. He seems destined for the majors." His peppy chatter and congenial spirit made Klores a fan favorite in Illinois, but a mid-season leg injury seriously hampered his play and as his batting average began to slip, so did his hopes of reaching the major leagues. Klores ended the 1938 season batting .231 over 97 games. It was the worst of his four years in the minors and caused the 22-year-old to consider opportunities outside of baseball.

Wisely, Klores had not neglected his education and had continued his studies at Northwestern's College of Liberal Arts each fall semester. At this point he was quite far along toward a college degree and chose to pursue that route. The decision, however, did not spell the end of his relationship with baseball. Klores spent the summer of 1939 batting cleanup for the Chicago Spencer Coals, pennant winners of the semi-pro Tri-State League. Then, in February 1940, Northwestern University's athletic director, K. L. "Tug" Wilson, announced that Klores would take over duties as the Wildcats' head baseball coach, succeeding Burt Ingwersen, also an assistant football coach, who had decided to concentrate on spring practice in that sport.

For many years, Northwestern had been the smallest and the only private school in the Big Ten Conference, and the baseball team had endured a mixed record. They had never finished better than third and had finished in fourth place winning seven out of 12 games in 1939. Klores brought new promise to the team. He inherited one of the largest squads to report for baseball in March 1940, when 33 players, including 10 varsity athletes, tried out for 18 places that were available for an eight-game preseason trip to Alabama and Louisiana. Klores firmly believed in developing his players' fundamentals and felt there was no room at the college level for fancy plays and showboating. "All that I ask of a player is that he possesses a fairly good arm, speed on the bases and fair judgment," he explained. "If he is ambitious to make a career of baseball he should master the fundamentals in college and leave the tricky stuff until he gets in the minors." Encouraged by his squad's early showing, Klores must have been surprised to see the Wildcats get off to an inauspicious start in conference play, losing two games to Illinois. But then the team settled down to win two games each from Chicago, Minnesota, Iowa and Wisconsin. In the final series with Ohio State University, the Wildcats lost the first game, 3–2, but rallied
to win the second game, 6–5. This gave Northwestern a record of nine victories against three losses and a tie for the Big Ten championship with Illinois. Five players from the 1940 Wildcats went on to play in the minor leagues.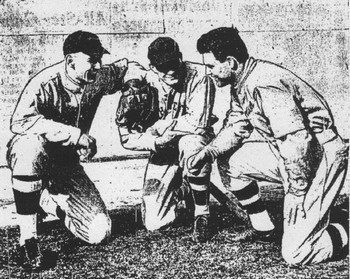 Stan Klores (on right) at Northwestern

Klores earned his bachelor of science degree in June 1940, and was back with the Chicago Spencer Coals during the summer. He returned to coach Northwestern in 1941, but the loss of five regulars from the previous year's championship team proved too big a handicap for the Wildcats. The team dropped to fourth place in the Big Ten conference with five wins against six defeats. "During my freshman year at Northwestern," recalled John Eshbach, "I was invited to become freshman baseball manager and during the spring of 1941 I got to know Stan. Everyone had great respect for him—as an outstanding athlete, a bright, congenial person, and all-round good man."
Klores received his master's degree at the beginning of June 1941. Then on June 7 he enlisted in the U.S. Naval Reserve and, soon after, enrolled at Northwestern's Midshipman's Naval Training School. It was during this time that the Japanese launched their attack on Pearl Harbor. With the nation thrust into war, Ensign Klores was among 800 who graduated from midshipman's school at the beginning of January 1942. Shortly afterwards he married his college sweetheart, Martha Whitehouse (May Queen of 1940, student leader of Northwestern's Women's Athletic Association, and daughter of a music faculty professor) and the couple left for Annapolis, Maryland, where Klores took a fivemonth special training course in naval communications.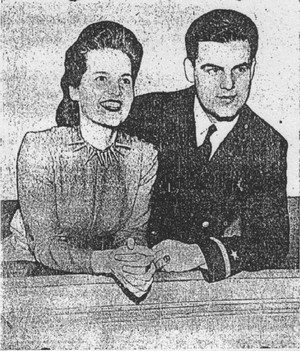 In October 1942, Klores received his first active duty assignment as a communications officer with the newly built 2,100-ton destroyer USS Conway (DD-507). The Conway cleared Norfolk, Virginia, on December 5, 1942, bound for New Caledonia in the Pacific, arriving there on January 13, 1943. Later that month, she was part of a force that met Japanese ships evacuating troops from Guadalcanal. Throughout February 1943, she patrolled between Espiritu Santo and Guadalcanal, and it was around this time Klores received word from the Red Cross that Martha had given birth to a son, Stanley Whitehouse Klores, on December 5, 1942. The family had sought without success for six weeks to make contact with Klores. Finally, his wife appealed to the Red Cross. It took them just five days to let him know the good news.

On March 4, the Conway participated in the bombardment of Vila-Stanmore in the Solomon Islands, and on March 15, she sailed in support of the Rendova Island landings, escorting supply ships before becoming involved in the New Georgia operations. Life on a destroyer in the Pacific, so far away from family, was a difficult time. "The innings are too long in this ball game," wrote Klores in a melancholy letter to Northwestern on May 12, "and we haven't even started to bat." In another letter received in June 1943, Klores revealed his feelings of uncertainty about his situation while reflecting on the deaths in battle he had witnessed: "You seldom get an icky feeling, because so much activity and work keeps your mind from thinking of it. However, now and then a cloud of sentimentalism does center over your head, and you wonder what the future holds in store. You never do forget that the other guys were made of the same flesh as yours."

Between July and August, the Conway operated out of Purvis Bay in the Solomon Islands, escorting fueling units and making night raids on Japanese shipping. Later in the month, she was back at Guadalcanal, conducting night raids on Japanese barges. The Conway sailed to Sydney, Australia, for overhaul in October 1943, and after a year at sea, Klores returned to the United States and was reunited with Martha and their newborn son.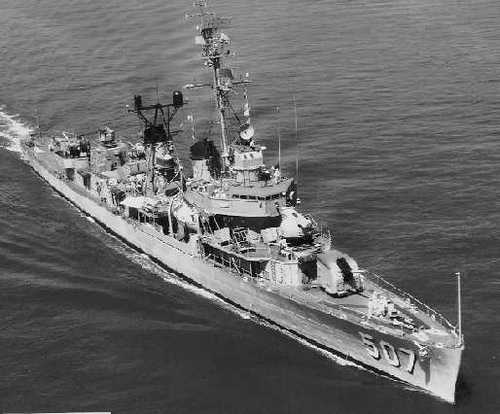 USS Conway

In November 1943, Klores made the somewhat unusual request for transfer to flight duty with the Navy Air Corps. Why he chose to train as a pilot is not certain, but he certainly welcomed the prospect of remaining in the states for the period needed for training, allowing more time to be with his family. He attended an 11-week pilot training course as a student officer at Dallas Naval Air Station, Texas. But experienced naval communications officers were harder to come by than aviation cadets and he soon found himself assigned to another brand new destroyer, the 2,200 ton USS Cooper (DD-695). At the time, it seemed a fortunate move as his brother-in-law Robert Whitehouse had earlier lost his life in a plane crash while training with the Army Air Corps.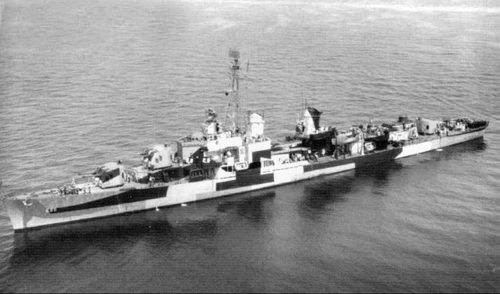 USS Cooper

"I last saw Stan in April 1944," said Eshbach, the freshman baseball manager from Northwestern, who had become engaged to Martha's sister Barbara in early 1944. "He had invited us to have dinner with him on the Cooper at the Brooklyn Navy Yard." By the time Eshbach and Barbara married on August 1, 1944 (making Eshbach, Klores'
brother-in-law), the Cooper was at sea, arriving at Pearl Harbor on September 4. After operational training, she proceeded to the active war zone in the western Pacific and joined the action. The Cooper screened aircraft carriers involved in air attacks on Luzon, Ormoc Bay, and Manila Bay in the Philippines, and participated in patrols in Leyte Gulf until December 2.

It was during this time that General MacArthur led the Allied forces on their return to the Philippines, marked by the landing, on October 20, 1944, at Tacloban on the east coast of the island of Leyte. The Japanese, however, maintained a strong position on Leyte's west coast and were re-supplying their troops through Ormoc Bay. During the night of December 2–3, the Cooper, along with two other destroyers, sailed into Ormoc Bay to intercept Japanese shipping. An engagement with Japanese warships ensued and, just after midnight, the Japanese destroyer Take launched her torpedoes at the Cooper, which suffered a massive explosion on her starboard side, broke in two, and sank almost immediately. Klores, who ordinarily was stationed on the bridge, was on duty in the Combat Information Center at the time. The Cooper had just disposed of one enemy vessel and had trained its guns on another when she was hit. Every man in the Combat Information Center perished. Japanese ships in the area prevented rescue of survivors for 14 hours, but eventually 168 crew members were saved. Klores was among the 191 that were lost.

"My ship, the USS Rooks, sailed to Pearl Harbor early in December 1944," recalled Eshbach. "As soon as I was able, I went to the destroyer headquarters to inquire about the location of the Cooper, hoping that it, with Stan, might still be in the area. It was a very severe shock to learn that the Cooper had been torpedoed just a few days earlier. We had been brothers-in-law for just four months and had not seen each other during that time."

It was three weeks after the Cooper sank, on December 26, 1944, that Martha Klores received word from the Navy Department that her husband was missing in action. The family held out a faint glimmer of hope for his safe return until January 10, 1945, when a telegram officially listed him as killed in action. Klores' body was never recovered. He is remembered at the Manila American Cemetery in the Philippines.

On April 7, 1945, four months after Stan's death, Martha gave birth to Judith Klores, their daughter. Stan, of course, had been aware that their second child was on the way, but he would not see her. Their son, Stanley, graduated from Northwestern, like his parents, and today the Rev. Stanley Klores is the Pastor at St. Patrick's Church in New Orleans, Louisiana. He was just two years old when his father was killed. "I have no first-hand memories of him," The Reverend Klores recalled. "However, everything that I have ever heard or read about him has described him as a fine man, a man of character and virtue, a natural leader."
| | | | | | | | | | | | | |
| --- | --- | --- | --- | --- | --- | --- | --- | --- | --- | --- | --- | --- |
| Year | Team | League | Class | G | AB | R | H | 2B | 3B | HR | RBI | AVG |
| 1935 | Peoria | Three-I | B | 114 | 420 | 52 | 119 | 22 | 6 | 6 | 48 | .283 |
| 1936 | Portsmouth/Asheville | Piedmont | B | 42 | 144 | 18 | 40 | 7 | 2 | 0 | 29 | .278 |
| 1936 | Huntington | Mid-Atlantic | C | 15 | 52 | 7 | 14 | 4 | 0 | 1 | 7 | .269 |
| 1936 | Martinsville | Bi-State | D | 66 | 261 | 39 | 86 | 17 | 4 | 6 | 49 | .330 |
| 1937 | Montgomery | Southeastern | B | 132 | 526 | 74 | 145 | 18 | 11 | 3 | 69 | .276 |
| 1938 | Bloomington | Three-I | B | 97 | 333 | 43 | 77 | 14 | 8 | 2 | 42 | .231 |
Special thanks to Amy Richard at the Bloomington Public Library for taking the time to research and reproduce countless articles from the Bloomington Pantagraph. Thanks to Kevin B. Leonard, University Archives at the Northwestern University Library for superb background information on Stan Klores' time at Northwestern. And special thank yous to John Eshbach and to Reverend Stanley P. Klores for giving me his blessing in compiling this biography of his father.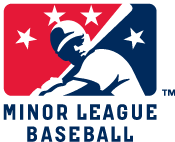 Page added August 31, 2006. Updated April 12, 2011.
Copyright © 2011 Gary Bedingfield (Baseball in Wartime). All Rights Reserved.