Go on, why not sponsor this page for $5.00 and have your own message appear in this space.


Click here for details



Those Who Died That Others Might Be Free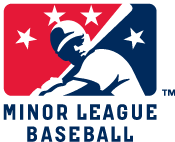 Charles Etherton
Date and Place of Birth: 1919 Carbondale, Illinois
Date and Place of Death: December 27, 1945 Jefferson City, Missouri
Baseball Experience: Minor League
Position: Pitcher
Rank: Corporal
Military Unit: US Army
Area Served: Pacific Theater of Operations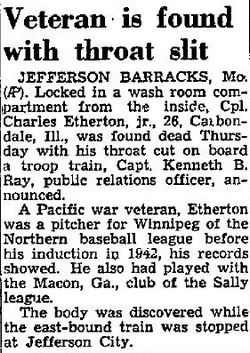 Charles Etherton Jr, son of the local postmaster, was born in Carbondale, Illinois in 1919. Etherton, a pitcher, signed with the Mayfield Clothiers of the Kitty League in 1936 and made one brief appearance. He returned to professional baseball in 1938 with the Monett Red Birds of the Arkansas-Missouri League and the Paducah Indians of the Kitty League in 1939. In 1940 he was with the Troy Trojans of the Alabama State League, and was 3-7 with the Zanesville Cubs of the Mid-Atlantic League in 1941. He joined the Winnipeg Maroons of the Northern League in 1942, where he posted a 4-2 won-loss record.
Etherton joined the Marines in 1943 and served in the Pacific Theater as a corporal. He returned home in late 1945 and on December 23, he boarded a troop train at Camp Stoneman, California, bound for Jefferson Barracks for discharge. Nobody knows what horrors young Charles Etherton might have faced on the battlefields, but other soldiers on the train said he was despondent.
Four days later, still on the train, Etherton locked himself in a washroom and cut his own throat with a double-edged razor blade. His body was found when the train stopped at Jefferson City. He was only a few hours from home.
Added November 11, 2006. Updated June 20, 2008.
Copyright © 2008 Gary Bedingfield (Baseball in Wartime). All Rights Reserved.
Charles Etherton's full biography will soon be appearing in
Professional Baseball Players Who Died in World War II.
A book written by baseballinwartime.com founder Gary Bedingfield
and published by McFarland, a leading American publisher
of scholarly, reference and academic books.
For more details join the Baseball's Greatest Sacrifice mailing list.