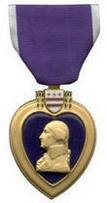 Howard "Howie" DeMartini

Date and Place of Birth: October 21, 1914 Northvale, New Jersey
Date and Place of Death: December 24, 1944 English Channel
Baseball Experience: Minor League
Position: Pitcher
Rank: Staff Sergeant
Military Unit: Company F, 3rd Platoon, 262nd Infantry Regiment, 66th Division US Army
Area Served: European Theater of Operations

Howard DeMartini was a well-known player in Rockland County, New Jersey before WWII. He was a star athlete at Closter High School where he excelled in baseball and basketball.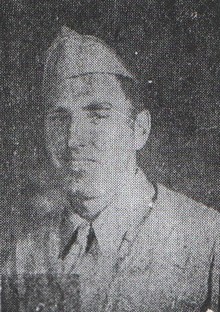 Howard W. DeMartini was a member of the championship baseball and basketball teams at Closter High School in Northvale, New Jersey, and played semi-pro baseball with the Tappan Community nine. The stocky right-hander signed with the Beatrice Blues of the Class D Nebraska State League in 1937, and finished the year with an unimpressive 3–5 won-loss record and 5.46 ERA, prompting a return to New Jersey to play semipro ball with teams around Bergen and Rockland County.

In late 1939, approaching his 25th birthday, DeMartini had a tryout with the New York Giants at the Polo Grounds, and was assigned to the Milford Giants of the Class D Eastern Shore League for 1940. He finished the year with a superb 16–6 won-loss record and a 2.74 ERA. Milford finished third in the league standings with a 72–52 record, but overcame the pennant-winning Dover Orioles in the first round of the playoffs to face the Salisbury Cardinals in the finals, where they were finally stopped, four games to two.

The New York Giants assigned DeMartini to the Salisbury Giants of the Class D North Carolina State League in 1941, where he continued to pitch well. He finished the season with a 17–7 won-loss record and his 2.31 ERA was among the best in the league. Salisbury finished second in the league standings and went on to beat the Mooresville Moors in the playoffs to clinch the league crown.

After winning 33 games in two seasons, DeMartini began the 1942 campaign with the Jersey City Giants of the Class AA International League. He made two brief appearances before being sent to the Jacksonville Tars of the Class B South Atlantic League, where he won five of his first six decisions. On June 29, DeMartini received little hitting support from his teammates and dropped a 2–0 decision to Ray Yochim of the Columbus Red Birds. It was to be his last professional game as he left immediately afterwards to be inducted into the Army at Newark, New Jersey, on July 1, 1942.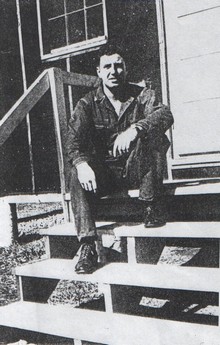 DeMartini, who was carried on the New York Giants' National Defense Service List when he entered military service, received basic training at Camp Lee, Virginia, and was then assigned to Holabird Ordnance Base, three miles from downtown Baltimore. Holabird was a repair center and supply depot for automotive parts in addition to being used for the test-driving of new Army vehicles. DeMartini had the opportunity to play basketball and baseball at Holabird throughout 1943. On April 8, he pitched a close game against the International League's Syracuse Chiefs, losing, 3–1, but held the Chiefs to six hits and scored Holabird's only run. On May 2, he pitched a 5–0 shutout over the Hagerstown Owls of the Interstate League, allowing just two hits and striking out 10.

DeMartini was later assigned to Company F, 262nd Infantry Regiment of the 66th "Black Panther" Infantry Division, and sailed for England on November 15, 1944. Eleven days later the division arrived at Southampton and was billeted in barracks and towns around Dorchester in the southwest part of the country. The next month was spent preparing for combat in Europe.

On Christmas Eve 1944, Staff Sergeant DeMartini was among 2,235 troops of the 262nd and 264th Infantry Regiments that boarded the SS Leopoldville—a Belgian passenger ship converted into a transport—that left England bound for the port of Cherbourg in France. Just five miles from the French coast, the Leopoldville was spotted by German U-boat U-486. At around 5:55 P.M., a torpedo that was launched by the submarine ripped a gaping hole below the water line of the Leopoldville, exactly where DeMartini and Company F was quartered. Only 19 of 175 troops assigned to the company survived. The body of Howard DeMartini was never found.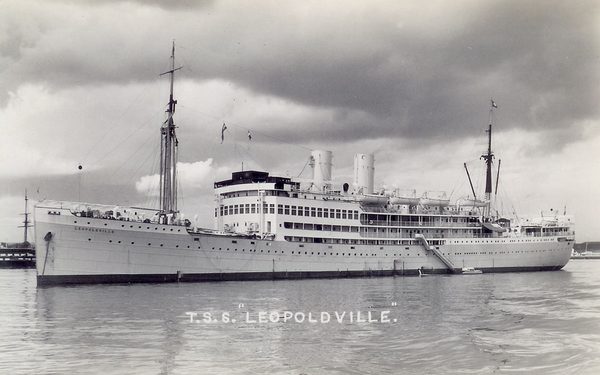 The Leopoldville sank hours later and approximately 515 troops went down with the ship. Another 248 died from injuries, drowning or hypothermia (Link Berry, who had won 47 games with New Bern of the Coastal Plain League between 1939 and 1941, also died that night. Harvey Riebe, who had caught 11 games for the Detroit Tigers in 1942, spent 45 minutes in the icy water before he was rescued). The German U-boat U-486 was torpedoed by the British submarine HMS Tapir on April 12, 1945.

The sinking of the Leopoldville and the tragic loss of life was kept secret by the U.S. and British governments. Even the families of those who died were never told the truth.

Although DeMartini's family was informed of his death in January 1945, the circumstances were not revealed until many years later.

In 1980, DeMartini was inducted into the Bergen County Baseball Hall of Fame. His sister, Mrs. Charlotte Nealy, proudly accepted the award on his behalf. His name can now be found engraved on the Leopoldville Disaster Monument that was dedicated on November 7, 1997, at Fort Benning, in Columbus, Georgia.
Year

Team

League

Class

G

IP

ER

BB

SO

W

L

ERA

1937

Beatrice

Nebraska State

D

11

56

34

20

38

3

5

5.46

1938

Did Not Play

1939

Did Not Play

1940

Milford

Eastern Shore

D

34

194

59

50

154

16

6

2.74

1941

Salisbury

N. Carolina State

D

29

191

49

33

149

17

7

2.31

1942

Jersey City

International

AA

2

2

-

2

0

0

0

-

1942

Jacksonville

South Atlantic

B

10

82

21

16

30

5

2

2.30
Added July 15, 2006. Updated February 20, 2011.
Copyright © 2011 Gary Bedingfield (Baseball in Wartime). All Rights Reserved.