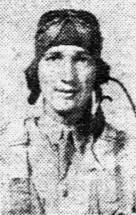 George W. Chandler, Jr., grew up in the Oak Cliff area of Dallas, Texas, and attended W. H. Adamson High School, where he excelled in baseball, football and basketball. Chandler was a hustling infielder and, following graduation, played with the Karlen Brothers and Greyhound Bus teams in the local City League.
In 1938, after graduating from high school, he signed a professional contract with the Refugio Oilers of the short-lived Class D Texas Valley League, and batted .251 with 63 RBIs, leading the Oilers' hitters with 109 base on balls. In 1939, he joined the Greenville Lions of the Class D Alabama-Florida League, and while learning to play a new fielding position—catcher—he batted .211, before moving to the Lake Charles Skippers of the Class D Evangeline League, where he hit .317 in 16 games. In 1940, Chandler was with the Midland Cowboys of the Class D West Texas-New Mexico League, and also played for the Borger Gassers of the same league. In 19 games in 1940, he batted .230.
On April 8, 1941, Chandler entered military service with the Army Air Corps and took basic flight training at Randolph Field, Texas. He was made a staff sergeant on September 6, 1942, and was assigned to Barksdale Field in Shreveport, Louisiana, for training on twin-engine bombers. On Sunday, September 20, 1942, Chandler was among three crewmen on a routine training flight with pilot Second Lieutenant Burton W. Basten aboard a Martin B-26 Marauder. At around 2:00 P.M., 30 miles north of Barksdale Field, the plane experienced serious mechanical problems. There was a sudden explosion and it plunged, uncontrollably, to the ground. One crew member struggled to escape and parachuted to safety, while Chandler, Basten and Second Lieutenant Harold Kester remained trapped inside and perished when it crashed four miles west of Plain Dealing, Louisiana.
On October 1, 1942, funeral services for George Chandler were held at the First Baptist Church of Oak Cliff by Reverand Albert Luper. He was buried at Laurel Land Memorial Park in Dallas, Texas.
George's brother Tom continued the baseball tradition in the Chandler family. He was the head coach of Texas A&M University for 26 years, teaching many players including Gaylord Perry, Doug Rau and Davey Johnson. The American Association of Baseball Coaches (AABC) awarded Tom Chandler the prestigious Lefty Gomez Award in January 1982. Tom Chandler was inducted into the Texas A&M Hall of Fame as well as the AABC National Hall of Fame.
| | | | | | | | | | | | | |
| --- | --- | --- | --- | --- | --- | --- | --- | --- | --- | --- | --- | --- |
| Year | Team | League | Class | G | AB | R | H | 2B | 3B | HR | RBI | AVG |
| 1938 | Refugio | Texas Valley | D | - | 405 | 86 | 102 | 16 | 2 | 6 | 63 | .252 |
| 1939 | Greenville | Alabama-Florida | D | 20 | 57 | 8 | 12 | 1 | 2 | 0 | 8 | .211 |
| 1939 | Lake Charles | Evangeline | D | 16 | 41 | 6 | 13 | 4 | 0 | 0 | 7 | .317 |
| 1939 | Midland | W. Texas-New Mexico | D | 2 | 6 | 0 | 2 | 0 | 0 | 0 | 0 | .333 |
| 1940 | Midland/Borger | W. Texas-New Mexico | D | 19 | 74 | 20 | 17 | 4 | 1 | 0 | 5 | .230 |