This page is proudly sponsored by the Sieber family

Eddie Sieber
Date and Place of Birth:
February 20, 1915
Bainbridge
Township
, Coloma, Michigan
Baseball Experience:
Semi-Pro
Position:
Catcher
Rank:
Sergeant
Military Unit:
Medical
Corps, US Army
Area Served:
European Theater of Operations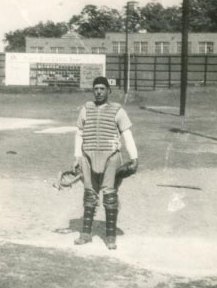 Edward A "Eddie" Sieber was born on February 20, 1915 in Bainbridge Township, Coloma, Michigan. He was a pitcher and catcher while at Coloma High School. His older

brother Ray would pitch one game with Eddie catching, then they would trade places for the next game.
After graduation he played for various teams in Benton Harbor, Michigan, including Phillips 66, Crystal Palace and the Watervliet Paper Company team.
In the mid-1930s, Sieber traveled to Bloomington, Indiana to try out for the St Louis Cardinals. Hall of Fame pitcher Burleigh Grimes ran the week-long tryouts. Sieber was among 13 catchers trying out that week and he was in the final two catchers. At the end of the tryouts he went home and a week later received a letter asking him to report to the Cardinals minor league club at Decatur, Illinois. Unfortunately, he was needed on the farm and the salary he was offered to play ball was so poor he had to make the decision to remain at home.
On May 10, 1943, Sieber entered military service with the Army at Chicago, Illinois. He trained as a medic and was stationed at Camp Grant and Camp Ellis in Illinois, and Camp Butner in North Carolina. It was at Camp Butner that Sieber saw a poster advertising tryouts for the Camp Butner baseball team. His superiors weren't going to let him try out, but another officer stepped in and got him released to try out. He made the team that traveled all over North Carolina. Sieber caught for Kirby Higbe of the Brooklyn Dodgers. He also played against Ted Williams, witnessing him hitting the longest home run he ever saw. The team traveled all over North Carolina and played against the US Navy Pre-Flight Cloudbusters, North Carolina State, North Carolina Tar Heels and the Blue Brigade.
In May 1944, Sieber was shipped overseas. He arrived in Glasgow, Scotland a couple of weeks prior to D-Day, and was assigned to the 137th General Hospital in Wales, where he remained throughout the remainder of the war in Europe.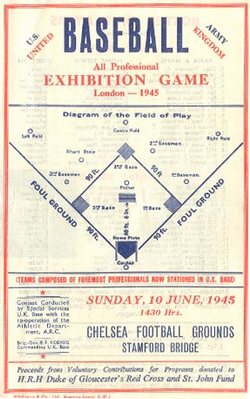 On Sunday, June 17, 1945, Sieber played for the "Whites" against the "Greys" in an all-star game in London. Held at Stamford Bridge Stadium – home of Chelsea soccer club – a crowd of 18,000 turned out to watch the hand-picked military service teams.
His brother Ray was stationed in London at this time as a special investigator for the Army Air Force. The brothers were unaware that they were stationed so
close together and when Ray read in the Stars and Stripes that his brother was coming to play baseball in London he surprised him, sitting behind him in the stands.
Sieber was behind the plate and his sixth inning run-scoring double gave the Whites a 5-3 lead. A late-inning rally by the Greys, however, saw them take the game 7-5.
An all-star team from the two squads was chosen to play games in mainland Europe but Sieber was headed for Japan, then rerouted back to the States in July 1945. He was discharged early 1946.
Sieber continued playing baseball after the war in Benton Harbor, Michigan. When his sons began to play baseball, Sieber helped coach them, and was instrumental in building four baseball fields in his community to build interest in the game.
Sieber worked for Indiana and Michigan Electric Company and sold real estate. He served on the St Joseph Township Board as a trustee for over 30 years before retiring at age 92.
Eddie Sieber lives in Benton Harbor, Michigan.
Thanks to Eddie Sieber and all members of his family for their assistance in compiling this biography.
Created January 27, 2008. Updated January 28, 2008.
Copyright © 2007 Gary Bedingfield (Baseball in Wartime). All Rights Reserved.