Go on, why not sponsor this page for $5.00 and have your own message appear in this space.


Click here for details



Joe Gradisher
Position: Third Base
Born: Ely. MN October 9, 1915
Died: Muskegon, MI October 1990
Military Service: USAAF (ETO)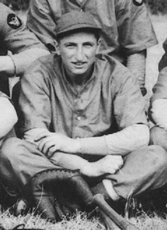 Joseph Gradisher, an outstanding third baseman from Muskegon, Michigan, spent four years in England and served with the Eighth Air Force Bomber Command Headquarters. He was a mainstay of the Bombers ball team lineup and appeared in many all-star games.

Gradisher met his wife, Nancy, while in England. She was serving with the British armed forces as a searchlight operator in London and they married in 1943. When Nancy arrived in the USA in October 1944 she was the first war bride in Muskegon County.

When Gradisher returned to Muskegon, he was asked to tryout for a professional team but felt he was too old at 30 and also had a family and did not think it was the responsible thing to do. Gradisher continued to play baseball with local teams until the age of 60. He also coached Little League teams and was instrumental in starting a senior slow-pitch softball league in the area. He was also an avid bowler and continued bowling up until he passed away in October 1990 at age 75.


Thanks to Mary Knoll for help with her father's biography.
Created July 15, 2006.
Copyright © 2015 Gary Bedingfield (Baseball in Wartime). All Rights Reserved.