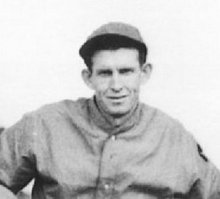 Edward L "Ed" Gatlin played pre-war semi-pro baseball with the Ponchatoula Athletics before entering military service in February 1942.

He took basic training at Fort McClellan, Alabama, and served with the USAAF in England with the 988th Military Police. As the catcher with the 988th MP Fliers, Gatlin participated in more 15 fund-raising games around the country. He also toured Britain with the Eight Air Force all-stars in 1943.

"I was involved in a lot of baseball in England," recalls Gatlin. "We traveled and played in every military base in the country."

After the war Ed Gatlin worked in farm produce for 24 years. He passed away in Hammond, Louisiana on August 15, 2000, aged 82.

(Thanks to the late Ed Gatlin for help with his biography)
Created April 19, 2006. Updated July 7, 2008.