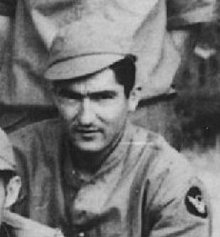 Jack B Gaston was born on February 4, 1911 at Oostanaula, Georgia. An outstanding baseball player, he led the Northwest Georgia Textile League with a .422 batting average while playing for the Lindale Pepperell Mill team in 1936.
Gaston entered military service on February 25, 1942. He took basic training at Jefferson Barracks, Missouri, and was stationed at Savannah, Georgia, and Fort Dix, New Jersey, before being sent to England to serve with the Eighth Air Force Fighter Command Headquarters in May 1942.
Sergeant Gaston regularly played for the Fighter Command Thunderbolts ball team, and in August 1943, he was selected to play with the Eighth Air Force All-Stars – a team of professionals who were led by former Senators' pitcher, Montie Weaver. Before a crowd of 20,000 at London's Wembley Stadium, the All-Stars defeated a hand-selected team of US Army professionals, 1 to 0, on August 7, and so impressed the commander of the Eighth Air Force -Lieutenant-General Ira C Eaker – that he awarded the team with a 30-day tour of military bases throughout Britain. The All-Stars played 29 games and won 28. Gaston played 17 games and batted .400 with three home runs.
He also turned to pitching during the war years and when he returned to the United States at the beginning of 1945, he quickly established himself as the mound ace for the Stewart Field Airmen team in Newburgh, New York. "Jack isn't just another chucker," declared the base newspaper in 1945, "he's a real pitcher who knows how to use his talents to the utmost. His slow ball is a honey and will cause many a strained back this season. Along with his pitching equipment Gaston wields a mean bat."
Apart from batting over .500 all season, Gaston won many games for the Airmen, including an 11 strike out performance against the Greenhaven Guards when he struck out Wes Westrum twice.

Gaston returned to the Pepperell Mill team after military service. In 1948, he batted .428 for the season, posted a perfect 7-0 record, and was the most valuable player in the league playoff series.

Jack Gaston continued playing into the 1950s. By the time he retired from the game he had played 25 years in textile league baseball. But he didn't stop swinging a bat for many more years, and in 1984, at the age of 73, he slapped an inside-the-park home run to lead his slow pitch softball team to an 11-0 win!

In 1988, Gaston was inducted into the Rome-Floyd County Sports Hall of Fame. He passed away in Lindale, Georgia, on September 26, 1994, aged 83.
Thanks to the Gaston family for help with this biography.

Created April 2006. Updated March 2, 2008.