Date and Place of Birth: March 19, 1920 Lockport, Illinois
Died: May 10, 1995 Joliet, Illinois
Baseball Experience: Semi-Pro
Position: Outfield
Rank: Unknown
Military Unit: Eighth Air Force Bomber Command HQ USAAF
Area Served: European Theater of Operations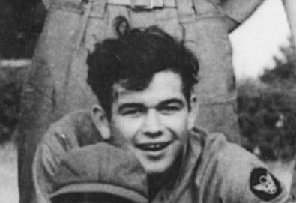 Nick Fracaro was a naturally gifted athlete from Joliet, Illinois. He was a football star at Joliet Catholic High School before the war and starred with the Joliet Rivals baseball team.

Fracaro entered military service in February 1942 and served with Eighth Air Force Bomber Command Headquarters in England from 1943 to 1945. He played outfield with the formidable Bomber Command Bombers and team manager, Lieutenant Louis Cornibert, wrote to New York Giants' manager Mel Ott to rave about his playing abilities. "Hold him for the Giants," Ott replied

After the war, Fracaro continued to play baseball with the Joliet Rivals Baseball Association and the Lockport Moose team, and worked as a pipe fitter for Texaco until his retirement. He became an Honorary Lifetime Member of the Old Timers Baseball Association.

Nick Fracaro passed away in May 1995 at age 75.

Thanks to Linda Zeismer for help with her father's biography.
Created July 15, 2006.
Copyright © 2015 Gary Bedingfield (Baseball in Wartime). All Rights Reserved.