Go on, why not sponsor this page for $5.00 and have your own message appear in this space.


Click here for details



Amey Fontana
Position: Pitcher/Outfield
Born:
Wampum, PA March 17, 1919
Died:
Ellwood City, PA 1992
Military Service:
US Army (ETO)
Amey Fontana was a semi-pro pitcher in Pennsylvania before the war. Playing for an all-star team coached by Rabbit Maranville, he was offered a tryout with the Pirates after holding the major league team to five hits in an exhibition game in 1940. He was drafted by the army before he had a chance to sign.

He was a member of the 660th Engineers team that were league champions at Fort Belvoir, Virginia in 1942. The following year he was in London playing with the Engineers and CBS Clowns. By 1945, Fontana was in France playing for the Seine Base Clowns.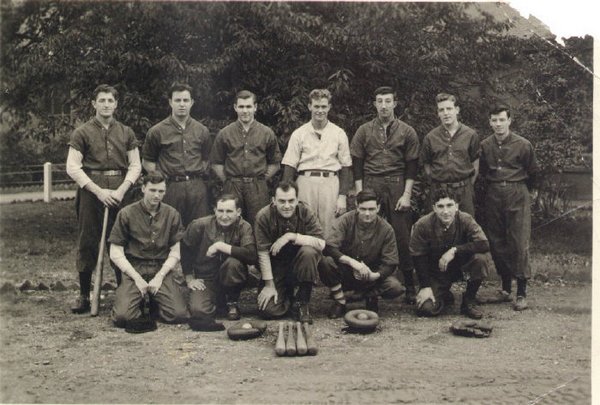 Fort Belvoir baseball team 1941-1942 champions
After the war Fontana continued to play baseball in the western Pennsylvania area until the late 1950s and worked as a carpenter until he passed away in 1992 at age 73.

"He loved to talk about playing baseball," says his sister Amanda Scala, "and he could talk for hours."

"I remember Amey Fontana well," says Mayor Alfonso Denmark of Wampum. "He was one heckuva ballplayer. He played a lot of ball in Lawrence County, including being on the Lawrence County Atlantic Refining baseball team which lost to a Rhode Island team in the East Coast Championship game in 1938.

"He was a first-rate player and a first-rate person."

Thanks to Mrs Betty Fontana for help with her late husband's biography
.
Copyright © 2015 Gary Bedingfield (Baseball in Wartime). All Rights Reserved.