Augie Donatelli
Date and Place of Birth: August 22, 1914 Heilwood, Pennsylvania
Died: May 24, 1990 St Petersburg, Florida
Baseball Experience: Major League
Position: Umpire
Rank: Staff Sergeant
Military Unit: 379th Bomb Group USAAF
Area Served: European Theater of Operations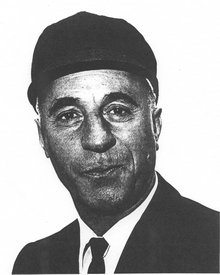 August J "Augie" Donatelli was born in Heilwood, Pennsylvania on August 22, 1914, and raised in Bakerton. After enjoying a 14-game career as a minor league infielder in 1938, he
worked alongside his father and brothers in the coalmines of western Pennsylvania.
On January 6, 1942, Donatelli joined the Army Air Force. He was stationed in England with the 379th Bomb Group as a tail-gunner on a Boeing B-17 Flying Fortress, one of the most perilous jobs in the air force. Donatelli flew 17 successful missions, but on March 4, 1944, during the first American raid on Berlin, his plane was shot down. Donatelli was able to parachute to safety but did not have a smooth landing. "I came down in a forest and broke a bone in my right ankle," he later recalled. "I was trying to walk when I heard someone shout, 'Halt!'" Donatelli soon found himself at Stalag Luft IV. During his 14 months as a POW, Donatelli tried to escape twice but was recaptured. Former National League umpire, Doug Harvey, later recalled: "He always laughed when he talked about his second attempt. He was hiding in a haystack, but didn't get all the way in. His rear was showing. One of the German guards got him out with a pitchfork."
While a POW, Donatelli began umpiring prison softball games. Fellow prisoner, Michael Mondo, of Point Pleasant Beach, New Jersey, played on the one of the softball teams and would catch up with Donatelli at POW conventions after the war. Donatelli and his fellow prisoners were liberated by advancing Russian forces on May 12, 1945.
He began umpiring professionally in the South Atlantic League after the war and reached the National League in 1950. His first game was at the Polo Grounds with the Giants facing the Braves and his career spanned 24 years. In that time he officiated in five World Series and four all-star games. He was behind the plate for four no-hitters; Stan Musial's 3000th hit and a four home run game by Willie Mays.
"It's an unnatural life," Donatelli told Time magazine on August 25, 1961. "But have you ever been miles deep in a soft-coal mine? Umpiring gets rough, but whenever it does, I say to myself, 'Augie, this is better than the mines.' "
In 1963, Donatelli, Al Barlick, Stan Landes and Mel Steiner, in an effort to give umpires better representation, helped to form the National League Umpires Association, which eventually became the Major League Umpires Association. "Augie's the man who made all the good things possible in umpiring today," said Harry Wendelstedt.
Donatelli retired to St Petersburg, Florida, in 1974 and passed away in 1990, aged 75. About his umpiring career, his wife said shortly after his death, "Once he told me he never thought he'd have a job he liked so well and that would be so much fun."
Created July 1, 2006. Updated September 21, 2007.
Copyright © 2015 Gary Bedingfield (Baseball in Wartime). All Rights Reserved.