Go on, why not sponsor this page for $5.00 and have your own message appear in this space.


Click Here for Details



Pee Wee Day
Date and Place of Birth: February 4, 1925 Davenport, Iowa
Died: May 9, 2003 Davenport, Iowa
Baseball Experience: College
Position: Outfield
Rank: Unknown
Military Unit: Third Marine Division, US Marine Corps
Area Served: Pacific Theater of Operations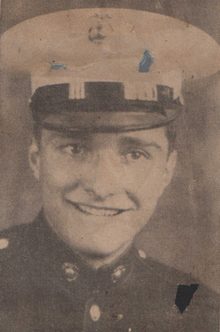 Loran A "Pee Wee" Day Jr was born on February 4, 1925 in Davenport, Iowa. He and his twin brother Lawrence (known as "Fats") attended Davenport High School where they starred in baseball, basketball and football. They moved to Mason City during their senior year and helped the high school basketball team capture the state championship in 1943 and provide the football team with one of the best seasons they ever had.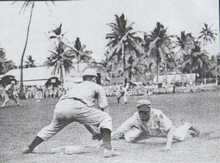 Pee Wee enlisted in the Marines in WWII. He served in the Pacific and received shrapnel wounds at Iwo Jima. During the latter days of the war he played baseball for the Third Marine Division team on Guam. The team, with Pee Wee playing leftfield, was a baseball powerhouse and played many of the games at Trimble Field – named after
James Trimble
, a young pitcher who was signed by the Washington Senators and was killed at Iwo Jima in March 1945. The Third Marine Division's line-up included future Boston Braves' outfielder Bob Addis, minor league catcher Stan Bazan and Bobby Schang, son of former major league catcher, Wally Schang.
Pee Wee returned to Iowa in late 1945, and he and his brother won a scholarship to Northwestern University where they played baseball and football. In 1949 they both played in the Rose Bowl against California with Northwestern winning 20-14. The Bears mounted a last-minute passing drive, but an interception by Pee Wee put an end to their hopes, sending the crowd of 92,000 to their feet. "Fats and I were the first ever twins to start in a Rose Bowl game," Pee Wee told me in November 2000, "and I still hold the record for interceptions in a Rose Bowl game."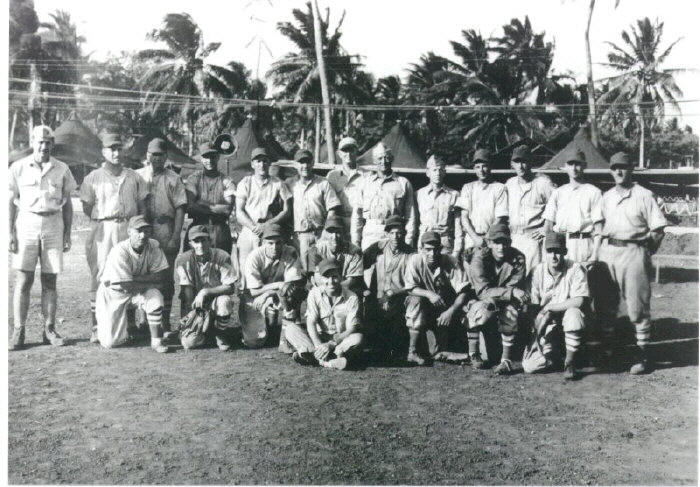 Third Marine Division All-Stars on Guam in 1944
After graduation, professional sports were eager to sign the gifted young athlete. "I was offered a contract to play professional baseball for the St Louis Cardinals," Pee Wee explained, "and also to play football for the Chicago Cardinals, but declined both."
Instead, he went to work for Martin-Marietta Cement Company as a sales representative. He retired in 1990 as a manager of contract sales.
Pee Wee Day is the only athlete to be inducted into the Iowa High School Hall of Fame for baseball, basketball and football. He passed away on May 9, 2003, aged 73. Pee Wee is survived by his wife, Midge; three daughters, Lorie, Bonnie and Marge; one son, Larry; and five grandchildren.
Thanks to the late Pee Wee Day for sharing this information.
Created January 8, 2007.
Copyright © 2015 Gary Bedingfield (Baseball in Wartime). All Rights Reserved.