Go on, why not sponsor this page for $5.00 and have your own message appear in this space.


Click here for details



Alex Cairns
Date and Place of Birth: Richmond Hill, Ontario Canada
Baseball Experience: Amateur
Position: Catcher/Outfield
Rank: Unknown
Military Unit: Royal Canadian Dental Corps
Area Served: European Theater of Operations

"Playing baseball kept me out of trouble," says Alex Cairns of Richmond Hill, Ontario. Cairns played softball before the war with the Tehman Library team. He was called up for military service in August 1941 and during basic training in Newmarket, Ontario he was asked to play baseball and was assigned to the Dental Corps. He was in England a year later.

"The Canadian Dental Corps took care of all branches of the services," Cairns explains. "I ended up with 36 Company of the Dental Corps and was attached to 407 Squadron Royal Canadian Air Force in North Devon.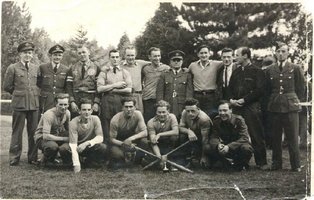 "We got to play baseball against other teams on the base and also American teams that were stationed nearby. We also held a charity game in Barnstaple with an American team and the people seemed to appreciate it because it became quite exciting. I remember catching a fly ball in the outfield and falling over a wire fence.

"We traveled to London to play a game at Hyde Park in group playoffs and we ended up in the finals against an army team. The army won 1-0 on a slow dribbler to second base that F/Sgt Faulkner threw to me on the high side and the runner slid under my tag."

Cairns returned to Canada in 1945 where he worked in the local foundry, as he had done before the war.

Created July 15, 2006.

Copyright © 2007 Gary Bedingfield (Baseball in Wartime). All Rights Reserved.