Go on, why not sponsor this page for $5.00 and have your own message appear in this space.


Click here for details



Ralph Busson
Date and Place of Birth: September 27, 1918 Doylestown, Ohio
Died: May 8, 1997 Doylestown, Ohio
Baseball Experience: Amateur
Position: Unknown
Rank: First Sergeant
Military Unit: HQ Company, 508th Parachute Infantry Regiment, 82nd Airborne Division US Army
Area Served: European Theater of Operations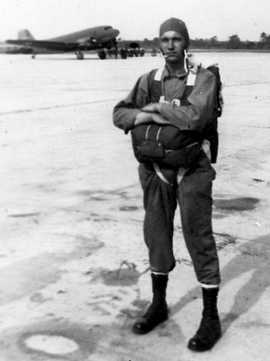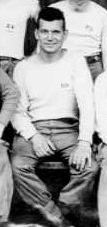 Ralph Busson was born in Doylestown, Ohio on September 27, 1918. The all-round athlete attended Doylestown High School and played pre-war sandlot ball with the Akron Killian-Celtics, one of the strongest amateur ball teams in northern Ohio.
Busson entered service with the Army in on September 19, 1941.
Following basic training he volunteered for the paratroopers - attended Parachute Jump School at Fort Benning and was assigned to the 508th Parachute Infantry Regiment (PIR), 82nd Airborne Division, at Camp Blanding in Florida and then Camp Mackall in North Carolina. It was during this time that Busson played service baseball. The ball team at Camp Mackall was strong. The line-up was dotted with semi-pro players and a minor league 20-game winner named Lefty Brewer. The 508th Red Devils played all through the long, hot summer during off-duty hours, they clinched the Camp Mackall championship with a 26-4 won-loss record, and one of their few losses was at the hands of an all-star team put together by Babe Ruth.
On December 27, 1943, as part of the invasion build-up the 508th PIR was posted overseas. They arrived in Northern Ireland on January 8, 1944 and then reached Nottingham, England on March 12. Busson had the chance to play one last ball game before going into combat as a platoon squad leader. On Sunday, May 28, 1944, at Meadow Lane soccer ground, the 508th Red Devils play an exhibition game against the locally based 505th PIR Panthers. The Red Devils outclassed the Panthers, 18-0. "There was a huge crowd," recalled Busson. "People cheered but they were not sure what they were cheering about. However, an announcer tried to explain the game as it went along."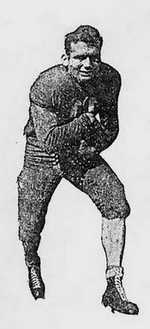 Eight days later, as night fell on June 5th, Busson and the men of the 508th - faces blackened and hearts racing - boarded transport planes for the flight across the English Channel. That night over France, 24,000 Allied paratroopers ascended through the darkness into chaos and confusion. Inexperienced pilots failed to locate designated drop zones and whole regiments landed miles from intended locations. "I jumped into the backwater of the Meredith and Dove rivers which the Germans flooded, so it was lucky I'm tall," Busson explained. "At this point the platoon sergeant was killed and I had to take over."
Busson survived Normandy and was also involved in Operation Market Garden - the largest airborne operation in history that occurred in Holland in 1944. This heroic operation was dramatized in the movie The Longest Day.
In J
uly 1945, with the war over in Europe and the 508th were stationed in Frankfurt, Germany. Busson was able to pull on his baseball uniform once more. "Because I was first sergeant my CO didn't want me to play," explained Busson. "But when it came tournament time I played one game." Busson was the only man in the 508th who was on the starting team in all three sports - baseball, basketball and football.
Busson returned home to Doylestown after the war. He went to work for the BF Goodrich company and continued to play baseball in Doylestown and Akron with the Warwick Merchants and the Hilltop Golf Course team.
Ralph Busson passed away on May 8, 1997, aged 78.
Thanks to the late Ralph Busson for help with his biography.
Created July 15, 2006. Updated February 5, 2007.
Copyright © 2007 Gary Bedingfield (Baseball in Wartime). All Rights Reserved.