Go on, why not sponsor this page for $5.00 and have your own message appear in this space.


Click here for details



George Burns
Date and Place of Birth: 1917 Sylacauga, Alabama
Baseball Experience: Semi-Pro
Position: First Base
Rank: Staff Sergeant
Military Unit: 660th Engineers US Army
Area Served: European Theater of Operations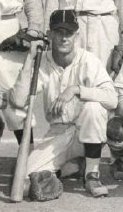 George Burns was born in Sylacauga, Alabama in 1917. He was a pre-war semi-pro player who was drafted by the Army on November 8, 1941.
Burns served in England with the 660th Engineers and played first base for Chuck Eisenmann's CBS Clowns, probably the best US Army team in England during the war. The big left-hander also played in the all-professional game at Wembley Stadium in London on August 3, 1943, with news of the event getting back to Sylacauga in September. "Corporal George Burns," wrote the Sylacauga News on September 2, 1943, "played in both ends of a double-header at Empire Stadium, Wembley, England, recently when the Central Base Section team downed the Canadian Military Headquarters by 6 to 3 and an all-professional Air Corps nine bested the Ground Force by a 1-0 count.
"Banging out two hits, a single and a double, Burns drove in two runs in the opening game. The corporal played flawless ball at first base during both games."
Burns continued to play baseball when his unit was sent to France, playing with the Seine Base Clowns - one of mainland Europe's toughest teams in 1945.
George Burns was honorably discharged from military service on November 14, 1945, and returned home to Sylacauga.
Created July 15, 2006. Updated January 24, 2007.
Copyright © 2007 Gary Bedingfield (Baseball in Wartime). All Rights Reserved.