Go on, why not sponsor this page for $5.00 and have your own message appear in this space.


Click here for details



Bill Brech
Date and Place of Birth:
February 8, 1922 Secaucus, New Jersey
Died:
June 1978 Secaucus, New Jersey
Baseball Experience: Semi-Pro
Position: Pitcher
Rank: Unknown
Military Unit:
988th Military Police (Aviation) USAAF
Area Served:
European Theater of Operations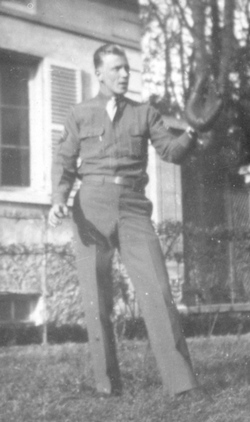 William "Bill" Brech was born in Secaucus, New Jersey on February 8, 1922. A semi-pro right-hander before the war, Brech was arguably the best pitcher to serve with the Air Force in England during World War II.

Brech was well known in his hometown before the war as a pitcher with the Otto Mack team. He entered military service in January 1942 with basic training at Camp Lee, Virginia, and was later transferred to Barksdale Field, Louisiana, and Fort Meyer, Florida, before arriving in England at the end of the year.

The high point of Brech's military baseball career was a sensational no-hit performance against the US Army in the 1943 all-professional game at Wembley Stadium. "If there is such a thing as a baseball Hall of Fame in England," wrote Charles F Kiley in The Stars and Stripes, following Brech's no-hitter. "The name of Bill Brech today occupies a prominent place in that institution."

Brech pitched a total of three seasons with the 988th Military Police Fliers and won more than 20 games, including a no-hitter against the 1st BADA Bearcats in the 1944 Air Service Command Championships.

Brech was 24 years old when he returned home to Secaucus, NJ in 1945. There was no question he was a talented pitcher, but he had no previous experience in professional baseball, and although he signed with Harrisburg of the Class B Inter-State League for the 1946 season, he did not play. Instead, Brech worked for the shipping department of the Inland Steel Container Company and continued to play semi-pro baseball with the Otto Mack team, which toured the northeast coast of the United States for several years. Brech was just 56 when he passed away in June 1978.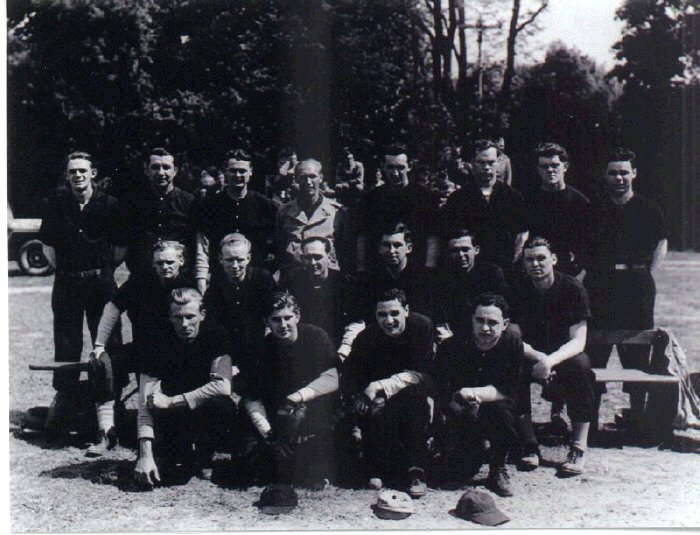 988th Military Police (Aviation) Fliers in France, 1945 (Bill Brech is front row, first left)
Thanks to Brad Brech for help with his father's biography.
Created July 2006. Updated October 31, 2007.
Copyright © 2015 Gary Bedingfield (Baseball in Wartime). All Rights Reserved.