Go on, why not sponsor this page for $5.00 and have your own message appear in this space.


Click here for details



Jim Bowen
Date and Place of Birth: 1922 Brighton, Massachusetts
Died: July 16, 2004 Rowley, Massachusetts
Baseball Experience: Amateur
Position: Third Base
Rank: Private First Class
Military Unit: 87th General Hospital US Army
Area Served: European Theater of Operations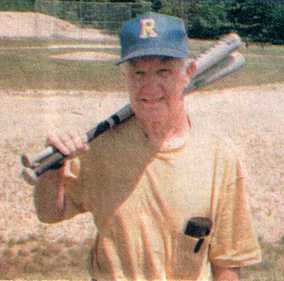 James "Jim" Bowen was born in Brighton, Massachusetts in 1922. One of 16 children, he graduated from St Columbkille's High School in 1940 and played baseball in the Boston Park League.
In 1941, Bowen was selected as one of the top potential players in New England to work out at Fenway Park where he was coached by the Red Sox staff. "I remember seeing Ted Williams asleep in the outfield bleachers one morning," Bowen recalls. "His hotel room was so hot he'd come down to sleep at the ballpark."
Bowen was drafted by the Army in 1942 and took basic training at Fort Devens in Massachusetts. He traveled to England in late 1943, boarding a troop ship at Boston Harbor. Bowen had never been to sea before and felt fine until a guy in the chow line threw-up in Jim's meal. "From then on," says Bowen recalling the 17 day journey, "I was violently sick and felt like I wanted to jump overboard."
Private First Class Bowen was stationed at the 87th General Hospital at South Mimms, near London, where he served as an ambulance driver. Most of the doctors and nurses were from Boston City Hospital. Bowen would drive to ports or the local train station to collect the wounded.
Bowen began playing baseball in 1944. There was a ballfield on the hospital grounds and he played third base for the team. "We used to have at least one ball game a week," Bowen says. "We also traveled to other hospitals and air bases to play games against American and Canadian service teams."
Bowen met his wife, Margie, in England. They were married at Welwyn Garden City on July 12, 1945. The following day, Bowen played baseball and Margie came along to watch and cheer on her new husband. But before the game even started she was hit in the shin by a line drive during batting practice!
Bowen left England in August 1945. He became a cable splicer for the Massachusetts Electric Company.
The Bowens moved to Rowley, Massachusetts in 1951. He joined the Rowley Rams baseball team the following year and spent the next 40 years involved with the team. He was instrumental in getting them a new diamond and as part of the Rowley Recreation Committee he was also responsible for the construction of the Little League field. "There was nothing but swamp and woods there," he said, "and we cut the trees and graded the property."
In 1991, at the age of 70, Bowen was on the ballfield with the Rams playing first base due to player shortages. The Bowens spent their winter months in Arizona where Jim played senior slow-pitch softball.
Jim Bowen passed away on July 16, 2004 in Rowley, Massachusetts.
Much of this information was gathered in an interview with the late Jim Bowen back in October 1995. Thanks also to his grandson David Leavitt.
Created July 15, 2006. Updated May 11, 2007
Copyright © 2007 Gary Bedingfield (Baseball in Wartime). All Rights Reserved.