As an infielder and pitcher he played in the Long Island semi-pro baseball league - four seasons with Malverne and two seasons with Lynbrook. He also played in the New York Stock Exchange League.
Baydala entered military service on June 12, 1942. Lieutenant Baydala reached England in 1943 and was assigned to the Office of the Fiscal Director as a Lend-Lease Liaison Officer in London, where his duties included development of policies relating to accounting for supplies and services between the US and its Allies.

Baydala played baseball in England with the DeHavilland Comets, a team of mainly Canadian workers from the aircraft plant, during the summer of 1944. "Playing on this team was Phil Marchildon," explains Baydala. "He was a leading pitcher with the Philadelphia Athletics before his induction into the Canadian Air Force.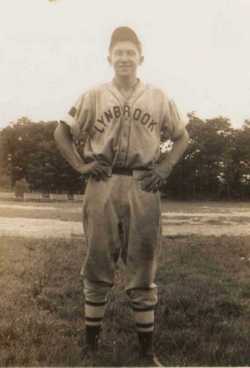 "We played two games against the CBS Clowns [one of the top service teams in Britain] Marchildon pitched on Saturday and played left field on Sunday, then afterwards, we took a ride in his jeep to the nearby pub for a few beers. That was the last time I saw him. His plane was shot down the next night and he became a prisoner of war." Marchildon became a prisoner of war and spent the next year at Stalag Luft III.
Looking back on his time in England, Baydala has some fond memories. "I recall being befriended by Messrs Bluestone and Elvin," he explains. "Both of these families invited several American officers to their homes for frequent meals. I especially recall Christmas 1944, when I enjoyed a sumptuous dinner and received several gifts, including a watch. These were Jewish families who helped us celebrate a Christian holiday."
Baydala later joined the CBS Clowns baseball team, which was run by minor league pitcher, Chuck Eisenmann. "I enjoyed all the fans that would attend the Clowns' games," Baydala says. "Beryl Davis, the British songstress who later appeared on US television's Lucky Strike Hit Parade, accompanied our team to numerous games and was one of our most ardent cheerleaders."

Baydala later served in Paris, Frankfurt and then Washington after the war. He remained in the military after the war and retired as an Air Force colonel in June 1968. Baydala was Vice President for Administration for ten years at State University of New York and spent six years as Business Manager at Florida Institute of Technology. He also taught business subjects at the University of Maryland and served on the board of directors of the Fredonia College Foundation.
Baydala still found time for sports in his busy schedule and was an active basketball official for many years. Edward Baydala lives in retirement in Melbourne, Florida.
Thanks to Edward Baydala for help with his biography.
Created July 15, 2006. Updated January 23, 2007.