Go on, why not sponsor this page for $5.00 and have your own message appear in this space.


Click Here for Details



Thomas Barnicle
Date and Place of Birth: February 25, 1916 Natick, Massachusetts
Died: August 11, 1984 Worcester, Massachusetts
Baseball Experience: College
Position: Outfield
Rank: Captain
Military Unit: 535th Bomb Squadron, 381st Bomb Group USAAF
Area Served: European Theater of Operations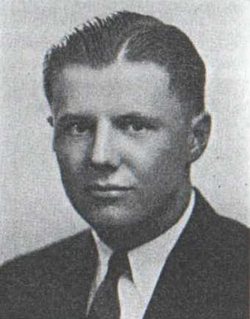 Thomas E "Toots" Barnicle was born in Natick, Massachusetts on February 25, 1916. He attended Framingham High School and Phillips Exeter Academy, and was an outstanding athlete at Princeton before the war. He played centerfield for the Princeton baseball team, quarterbacked their freshman football team in 1939 and played on the varsity hockey team from 1936 to 1939.
Barnicle worked for the Phillips Petroleum Company before entering military service in August 1940 and serving as a Field Artillery officer in the Pacific Theater from March to December 1942. He then transferred to the Army Air Force and trained to be a bomber pilot. In February 1944, First Lieutenant Barnicle arrived at Ridgewell in England as a Boeing B-17 Flying Fortress pilot with the 535th Bomb Squadron, 381st Bomb Group.
Barnicle flew his first mission on May 6, 1944 against German long-range guns near La Glacerie, France. Later that month he was awarded the Air Medal.
On August 8, 1944, recently promoted Captain Barnicle was piloting his B-17 nicknamed "Button Nose" against German infantry lines near Caen, France. Flak hit his ship hard on the way to the bomb run and started a fire in the bomb bay after doors were open. Barnicle pulled out of the formation and headed back. When the fire in the bomb bay and another fire in the right wing got out of control he ordered the boys to bail out. Barnicle did not leave the plane until all his crew had bailed out safely.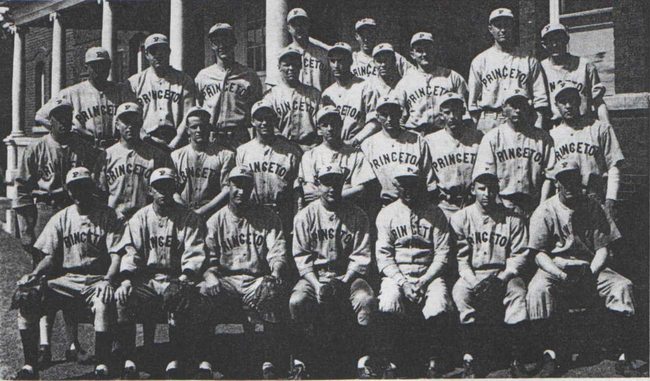 Princeton Varsity Baseball Team 1939 (Barnicle is third row, fourth from left)

The plane crashed into a schoolhouse near the Canadian side of the line close to Caen. Exploding bombs fortunately caused no casualties. Barnicle and his crew came down safely and were gathered up by the British. The crew spent the night at a C-47 base. "Soldiers were shooting craps," explains his wife, Gertrude. "So he pawned his flight jacket for money and proceeded to win all theirs!"
He was soon back with his squadron in England and was later awarded the Distinguished Flying Cross.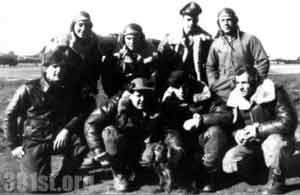 Captain Barnicle with his crew
(Barnicle is front row, second left)

Barnicle was honorably discharged from the military in February 1946. He founded the Genoa Macaroni Company in 1962. "Tom became a Selectman in Framingham," explains Gertrude. "He ran for State Senator and came within a few votes of upsetting a 20 year incumbent but did not make it. We both became realtors after that and moved to Upton, Massachusetts. He died at age 68 of a heart attack."
Thanks to Gertrude Barnicle for help with biography. Above photos are from the 381st Bomb Group web site. 381st.org
Created July 15, 2006. Updated January 23, 2007.
Copyright © 2008 Gary Bedingfield (Baseball in Wartime). All Rights Reserved.