Harold Banker
Date and Place of Birth: July 26, 1917 Wilkinsburg, Pennsylvania
Baseball Experience: Pro Tryout
Position: First Base
Rank: Unknown
Military Unit: Office of Strategic Services
Area Served: Unknown
Harold Banker, who served with the OSS in WWII, is still playing softball at 90.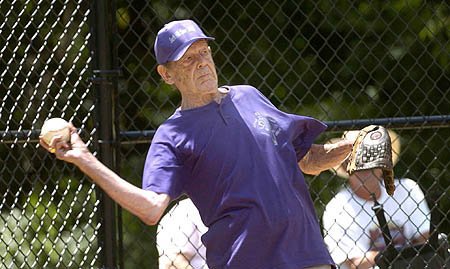 Harold Banker loved baseball while growing up in Wilkinsburg, Pennsylvania during the late 1920s. He developed into a good player and at the age of 16, the switch-hitting first baseman, had a tryout with the New York Yankees' organization at Butler.
"I was a pretty good hitter," he told Brad Everett of the Tri-State Sports & News Service on July 27, 2007. "That's why they recruited me. But I had a bum knee, and they cut me in the first round. I never played again. I quit. After that, I didn't like the Yankees anymore."
Banker entered military service in July 1941 and served with the Office of Strategic Services (OSS) – an intelligence agency formed during the war that was the predecessor to the Central Intelligence Agency, and the same organization that recruited Moe Berg.
When Banker returned from military service, he began playing softball in a fast-pitch church league, while working as the art director at a local newspaper.
Following the passing of his wife in 1996, Banker joined the South Hills Senior Softball League at the age of 79 and has been a regular player ever since.
As his team's catcher, Banker plays two or three games a week in the 55-and-older league. "I enjoy playing with the guys and I like to hit, naturally," he told Everett. "I like to get up there and bat. I don't like to take a walk. I like to hit the ball because you never know what's going to happen."
And Banker, who turned 90 in 2007, is a key part of the team. Two years ago he led his team to the league championship and was named league MVP. "I was lucky," he said to Everett. "I finally got some recognition. I got a little respect for being an old man."
According to Senior Softball-USA, the Mount Lebanon resident is the world's oldest active registered softball player.
But Banker's health is now catching up with his age. "I think this is going to be my final year," he said. "At my age, my body is starting to dictate policy and I think it's time to hang it up. Just like an automobile. ... It runs so long and you have to get another one."
This biography is taken from an article written by Brad Everett of the Tri-State Sports & News Service on July 26, 2007. The above photo was featured with the article and taken by Rebecca Droke of the Pittsburgh Post-Gazette.
Thanks to Don Richardson for making me aware of this great story.
Created July 28, 2007.
Copyright © 2007 Gary Bedingfield (Baseball in Wartime). All Rights Reserved.