Of the 30 players darafted, eight served with the armed forces during World War II.
Bill Blair graduated from Booker T Washington High School in Dallas and briefly attended Prairie View A&M University. He began his baseball career at the age of 16, playing for a barnstorming team in Mineola, Texas.
Bill served with the Army during WWII and became the youngest African-American to serve as a first sergeant. After his discharge in 1946 he joined the Cincinnati Clowns of the Negro League and later played for the Cincinnati Crescents.
He retired from baseball after 1951 to work full-time as the founder and owner of Southwest Sports News, a newspaper that specialized in publishing scores from African-American college games throughout the U.S. It was renamed Elite News in 1960 and is still being published today.
Jim Colzie (Drafted by the Boston Red Sox)
Jim Colzie entered military service with the Army in December 1942. Following his discharge after the war he played for the Indianapolis Clowns and Atlanta Black Crackers between 1946 and 1952. The highlight of his career was beating Satchel Paige in 1947.
Jim later worked with Little Leaguers and umpired in semi-pro leagues, while working as a junior high history and math teacher.
Walter McCoy (San Diego Padres)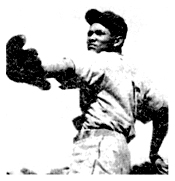 Walter McCoy grew up in San Diego and played for the Chicago American Giants and Kansas City Monarchs of the Negro Leagues. He entered military service in July 1942 and earned an MVP award as a pitcher with an Army team.
Following his discharge in January 1945 he returned to the American Giants. He entered organized baseball in 1949, playing for Visalia of the California League. In 1950 he became the first black player to play for Sacramento of the Pacific Coast League. He later played for Tijuana of the Southwest International League and ended his professional playing days with Nuevo Laredo of the Mexican League in 1955.
Walter later worked as a building contractor and coached his grandson's Little League team.
John "Mule" Miles (Drafted by the Seattle Mariners)
A distinguished athlete in high school and at Sam Phillips Junior College, he entered military service in 1942, and attended the special Aircraft Mechanic Journeyman Rating School in Tuskegee, Alabama, to assist the nation's first African-American flying training program, the Black Wings.
Following his discharge in 1946, he tried out with the Chicago American Giants and stayed with the team as a third baseman/outfielder through 1949.
Throughout the 1950s, "Mule" coached and managed baseball and basketball teams in San Antonio. In 1974, he completed a law enforcement course at San Antonio Junior College and became a commissioned officer.
In 1982, he received a Certificate of Recognition for Outstanding Contribution to the History of Black Americans from Lackland Air Force Base. He also received the Tuskegee Airmen Heritage Award: Tuskegee Ground Support Maintenance Crew in 1995.
James "Red" Moore (Drafted by the Atlanta Braves)
"Red" Moore began playing in the Negro League in 1934 with the Atlanta Black Crackers. A slick-fielding first baseman, he was a three-time all-star and was recognized with a "Red Moore Day" at Ponce de Leon Park in 1938.
During WWII he served with a combat engineer battalion of the Third Army in Europe. "Red" returned to baseball after the war and retired after the 1958 season.
Hank Presswood (Drafted by the Chicago White Sox)
A shortstop and third baseman, Hank Presswood played for the Mill City Jitterbugs in 1936-1937 and the Denkman All-Stars in Canton, Mississippi, from 1938 to 1944.
Hank served with the Army from 1945 to 1947, then returned briefly to the Denkman All-Stars before joining the Cleveland Buckeyes of the Negro League. In 1952, his last year in the Negro Leagues, Hank played for the Kansas City Monarchs.
When his baseball career was over, he played fast-pitch softball at Inland Steel, where he was employed for 30 years.
Joe Scott (Drafted by the Milwaukee Brewers)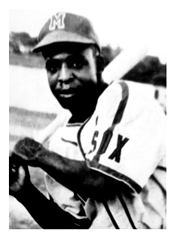 A leadoff hitter, Joe Scott played with the Chicago American Giants, New York Black Yankees, Pittsburgh Crawfords and the Memphis Red Sox. He had played at Wrigley Field on a high school team in Chicago, earning the distinction as the first black to play at Wrigley.
Joe was given an engraved baseball bat by his teammates on the Memphis Red Sox in 1942 congratulating him for an astonishing .714 batting average during a season cut short when he entered the Army.
Joe served as a staff sergeant. While based at Wright Field, Ohio, he played baseball for the Wright Field Kitty Hawks against the Pittsburgh Pirates in 1944. He later served in Europe with the 350th Field Artillery, 46th Brigade of the US Army. Joe returned to baseball after receiving his discharge and retired in 1956 to become a truck driver.
Bert Simmons (Drafted by the Baltimore Orioles)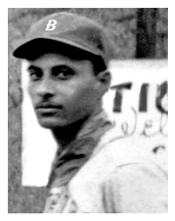 Bert Simmons entered service with the Army on April 21, 1943 at Fort Bragg, North Carolina. After being discharged at the end of the war he earned a degree in Business Administration from North Carolina A&T College, in Greensboro.
An outstanding ballplayer in college, Bert signed with the Baltimore Elite Giants of the Negro Leagues in 1950. After leaving baseball in 1952, he became a teacher in the Baltimore City School System for 30 years and retired in 1984. For more than 40 years, he coached baseball at the little league, high school and college levels.

Following his retirement, Bert opened a small retail store, Simmons, Inc, which sold customized clothing and uniforms for teams, churches, schools and fraternal organizations.
Bert Simmons was inducted in the North Carolina A&T State University Sports Hall of Fame in 1978.