Go on, why not sponsor this page for $5.00 and have your own message appear in this space.


Click here for details



Those Who Died That Others Might Be Free
World War II Hero of the Minor Leagues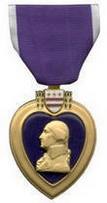 Elmer Wachtler

Date and Place of Birth: 1918 Omaha, Nebraska
Date and Place of Death: January 5, 1945 Belgium
Baseball Experience: Minor League
Position: Pitcher
Rank: Staff Sergeant
Military Unit: 134th Infantry Regiment, 35th Infantry Division
Area Served: European Theater of Operations

The Wachtler brothers were one of the greatest baseball playing families in Omaha sandlot history. But World War II would ruin their dreams of playing in the majors and end the life of a fine pitcher.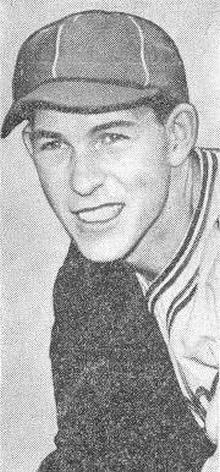 Elmer J Wachtler was born in Omaha, Nebraska in 1918. He was the third youngest of six children who included four baseball-fanatical brothers. There father died when the children were young and it fell upon the eldest child, George, to help bring up the Wachtler clan with their mother, Mary.
The Wachtler boys all played baseball with the Storz Brewery-sponsored team in the Community League. In 1941, Storz were league champions. George, playing the outfield, led the league in hitting with a .452 average. Billy, the youngest and also an outfielder, finished second in the league at .429. Elmer finished fifth in the league with a .339 batting average and an impressive 13-3 won-loss record from the mound.
Elmer also played with Tekamah (a town 45 miles from Omaha) in the Pioneer Nite League in 1942, barnstorming all over Nebraska and Western Iowa. Without a doubt his greatest successes that year were wins over Detroit and Brooklyn pitcher Boots Poffenberger in a Southwest Iowa meet and Pittsburgh hurler Oad Swigart in a local exhibition game.
In October 1941 it was announced that Elmer had made a surprise trip to St Louis where he worked out for Branch Rickey. Catcher Joe Garagiola rated the youngster's curveball as one of the best he had seen and Elmer signed with the team. "The 22-year-old fireballer refused to reveal terms," said the Omaha World-Herald, "But it was believed he received about one thousand dollars."
A month later, Elmer's younger brother, Billy, 19, also received a bonus to sign with St Louis. Billy was assigned to Columbus in the South Atlantic League, and it was originally reported that Elmer would be with Rochester of the International League, but was instead assigned to Houston in the Texas League. "This pro baseball is swell so far," Wachtler told the Omaha World-Herald in April 1942. "They have taught me a lot. I'm glad they are sending me to Houston, because I may be able to be a starter. I would have been a relief pitcher with Rochester."
Elmer and Billy found playing in the minors a little tougher than they had anticipated and they both ended the season with the Decatur Commodores in the Three-I League. It was a somewhat despondent Elmer who told Robert Phipps of the Omaha World-Herald in August 1942 that he was giving up pro ball because he couldn't see himself climbing higher than Class AA. Meanwhile, Billy, with his natural, easy swing was being hailed as the next major leaguer from Omaha.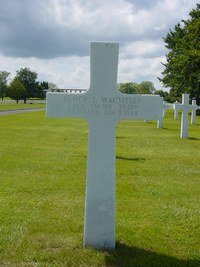 Elmer stayed in pro baseball. When he was inducted into the military in March 1944 he was due to have reported to Sacramento of the Pacific Coast League. Billy, who had been inducted in the Army during 1943, had been recalled by the Cardinals and placed on their National Defense List. Meanwhile, oldest brother George became an Omaha city fireman and Eddie worked for Metropolitan Utilities, Nebraska's gas supply company.
In the fall of 1944, Staff Sergeant Elmer Wachtler left his young wife and two year old son, Jimmy, and sailed to Europe where he soon entered combat as a replacement with the 134th Infantry Regiment, 35th Infantry Division. Billy was also in Europe, a sergeant with General Patton's Third Army.
On January 5, 1945, during the breakout at Bastogne in snow and freezing temperatures, 26-year-old Elmer Wachtler was killed in action. Initially, his wife, Mary, was notified by the War Department that Elmer was missing, but his death was confirmed in April 1945.
Services were held at St Cecilia's Church in Omaha, and Elmer Wachtler is buried at the Henri-Chapelle Cemetery in Belgium. As for Billy Wachtler - he safely returned to Nebraska but a military-related shoulder injury had ended his hopes of returning to professional baseball.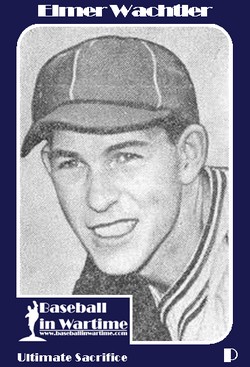 Thanks to Gary R Rosenberg at the Douglas County Historical Society for help with this biography. Thanks also to Gary Tenhulzen for the photo of Elmer Wachtler's gravesite marker.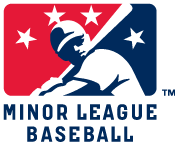 Added July 11, 2006. Updated January 3, 2007.
Copyright © 2008 Gary Bedingfield (Baseball in Wartime). All Rights Reserved.