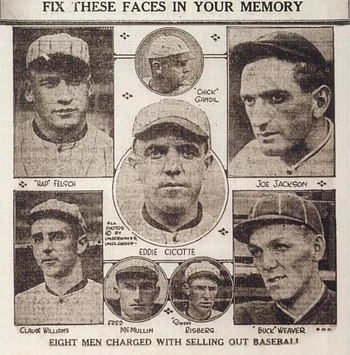 Betting and baseball have a long history together. Ever since the game found its feet in the mid-19th century people have been placing bets on the outcome of games. Over the years this has increased to placing bets on things like who will get a hit, who is going to get a homerun or even who will get a stolen base and in what inning.
Of course, over the years there have been a few scandals regarding baseball and the gambling world. The most notable of these being the 1919 Black Sox scandal, in 1919, just one year after the end of World War I, a total of eight players of the Chicago White Sox were accused of intentionally losing World Series games against the Cincinnati Reds. The accusations and ensuing criminal investigation, which came to light the following year, were front page news across the United States and, most notably, involved one of the most famous players in baseball at the time - Shoeless Joe Jackson. Although criminal charges were not brought against the eight players they were all banned from organized baseball for life. Jackson, along with Swede Risberg, Eddie Cicotte, Fred McMullin, Lefty Williams, Buck Weaver, Happy Felsch and Chick Gandil, never stepped foot on a professional baseball field again.
It would be 70 years before another major scandal hit the baseball world and again it involved one of the most famous players in the game at the time -
Pete Rose
. Rose had enjoyed an outstanding playing career and was Hall of Fame-bound. In 1989, he was the manager of the Cincinnati Reds and was questioned about gambling activities that involved him betting on his own team. It was revealed that Rose had bet on more than 50 Cincinnati games during the 1987 season and although it was generally considered that he had in no way affected the outcome of these games, his gambling actions were strictly against baseball rules. In August 1989, Rose reluctantly agreed to a lifetime ban from the game he loved. To read more about Pete Rose and his Banning from Sports check out
this article
from
ESPN.com
.
With the invention of online casinos and sports books, like
the William Hill online gaming brand
, it will be much harder to catch players breaking the rules and betting on baseball since ISPs are not likely to provide internet usage records to the commission of baseball nor are the online casinos and sportsbooks likely to open their records to anyone. Today all a player needs to do is to go to one of the thousands of sites like
this Canadian site
that offer online casino reviews, find an online casino with a sports book, open an account and in 5 minutes they can be betting on today's game.